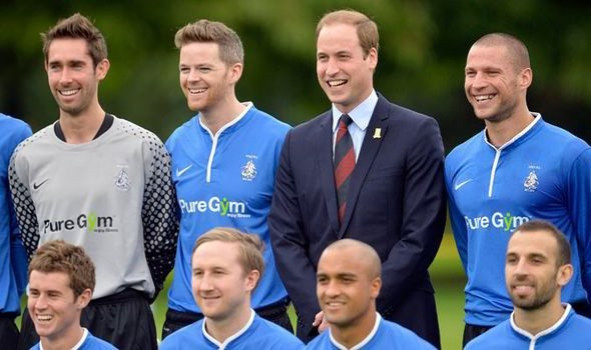 Prince William joined amateur footballers for an historic match at Buckingham Palace to mark 150 years of the Football Association.
The new father of Prince George watched a game played on his grandmother's lawn by England's two oldest clubs at the Royal residence in central London.
He warned them before kick-off about smashing one of her windows, saying: "I cannot tell you how excited I am that later today we will be playing football on my grandmother's lawn.
"One warning, though: if anyone breaks a window, you can answer to her."
William, who was not joined by wife Catherine, the Duchess of Cambridge, attended in his role as President of the Football Association - the governing body of the English game. It was the first time a football match has been played at Buckingham Palace.
He also said he expected no dog would break onto the field while the game was on, telling his guests: "The one small silver lining to Her Majesty not being present today is that there shouldn¹t be any corgis running on to the pitch."
Joining the Prince at the Palace were 150 people from around the country who work in the amateur game, including officials and volunteers. It was part of the FA150 Grassroots Heroes day.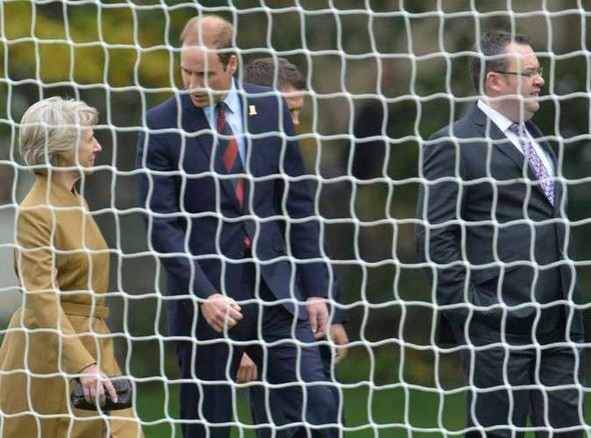 Civil Service FC and Polytechnic FC played out a Southern Amateur League league match on the Royal turf, with Premier League referee Howard Webb officiating.
Civil Service FC was one of 11 teams which set up the FA in 1863, while Polytechnic FC was founded in 1875.
Prince William said: "This magnificent home, Buckingham Palace, is at the heart of the nation, and so there cannot be a more fitting setting to celebrate our national game, and to celebrate all of you.
"In fact, Her Majesty, who has been the proud Patron of The FA for 61 years, sends her regrets that she cannot join you today.
"The beautiful game has changed an awful lot during the Queen¹s reign, but it remains the most loved game in the country, most probably the world."