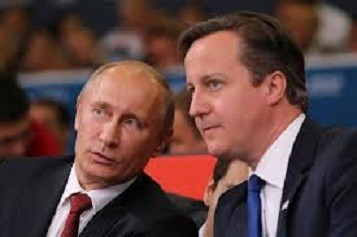 Prime Minister David Cameron and Russia's President Vladimir Putin held talks over the Syrian conflict but there was no announcement of any agreement between the two after the meeting.
In Putin's first visit to the UK in seven years, he joined Cameron in an intense 45-minute conversation at Downing Street to thrash out a way of ending the violence that has wracked Syria for 17 months.
"While we have had some differences in the position we have taken over the conflict we both want to see an end to that conflict and a stable Syria," Cameron said.
Since the beginning of the conflict, Putin has supported the Syrian president Bashar al-Assad regime and has vetoed three UN Security Council resolutions on Syria with China.
Most recently, Russia vetoed a British-sponsored resolution aiming to impose heavy economic sanctions on Syria as a way of pressurising the Assad regime to stop the brutal crackdown.
Britain's permanent ambassador to the UN, Sir Mark Lyall Grant, lashed out and said Britain was "appalled by the decision of Russia and China to veto this resolution aimed at ending the bloodshed in Syria".
Britain has also condemned Assad's army attacks on the rebel strongholds in war-stricken city of Aleppo.
Pussy Riot trial not discussed

The discussion between the two heads of state also touched on trade and security issues but it was not revealed if Cameron raised concerns about the trial for hooliganism of the punk rock band Pussy Riot.
Three band members, Nadezhda Tolokonnikova, Yekaterina Samutsevich and Maria Alyokhina, face up to seven years in jail.
Time for judo with the president
Putin - a former judo champion and black belt - came to London to watch his favourite sport in the Olympics.
He and Cameron were to watch together the judo men's 100kg final, starring Russian athlete Tagir Khaibulaev.
During the meeting Putin said that the London 2012's Opening Ceremony, which he did not attend, was: "wonderful and unforgettable".
"It was a wonderful feast presented by you to mankind," he said.