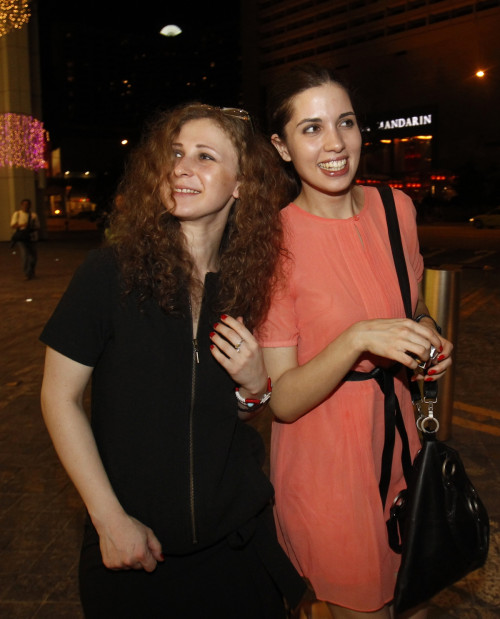 Russian dissident Masha Gessen claims that Vladimir Putin released a series of high-profile critics from jail out of "panic", when he realised international ire towards his regime risked turning the Sochi Winter Olympics into a "disaster".
Gessen recently moved from Moscow to New York with her partner, Svetlana Generalova, and their three children after Putin introduced legislation prohibiting homosexual 'propaganda'.
"We had reason to fear the legislation that may pass this year will cause social services to go after our three kids, that gay parents won't be allowed to retain custody. That's an unacceptable risk to us," Gessen told Maclean's magazine.
The journalist and campaigner has just written a book, Words Will Break Cement: The Passion of Pussy Riot, and describes herself as on "the same side of the barricades" with the balaclava-wearing punk act.
She said that Russian dissidents like Pussy Riot had struggled to find a language of protest, with the language of democracy which was used to criticise the USSR co-opted and neutralised by the Putin regime.
"Pussy Riot's language is not easy for a Russian audience to understand, which is one reason they invoke hostility and why the experience of the performance and trial was so jarring for Russian culture," said Gessen.
"It's also why the cathedral performance is a great work of art, because a great work of art should be jarring for its culture."
She said that Putin may even repeal the anti-gay laws in the run up to the Olympics, but would return them "in harsher form".
Kremlin critic and oligarch Mikhail Khodorkovsky and a group of Greenpeace protesters arrested while trying to disrupt Russian oil drilling in the Arctic circle were also released late last year.
Tonight, Pussy Riot members Nadezhda Tolokonnikova and Maria Alyokhina, who were released just before the end of a two-year jail sentence in December, arrived at an arts awards ceremony in Singapore, where the group is nominated in the best digital/video category.
At a press conference yesterday they paid ironic tribute to the Putin government for arresting them and ensuring their notoriety after their profane 'punk protest' in Moscow's Cathedral of Christ the Saviour.
"If nothing of what happened to us after that action had happened, there might have never been any nomination. And here we should pay tribute to the Russian state," Alyokhina said.