Queen Rania Slams The West For Opposing A Ceasefire As Death Toll Rises In Gaza
She accused the West of "aiding and abetting" the killing of Palestinians.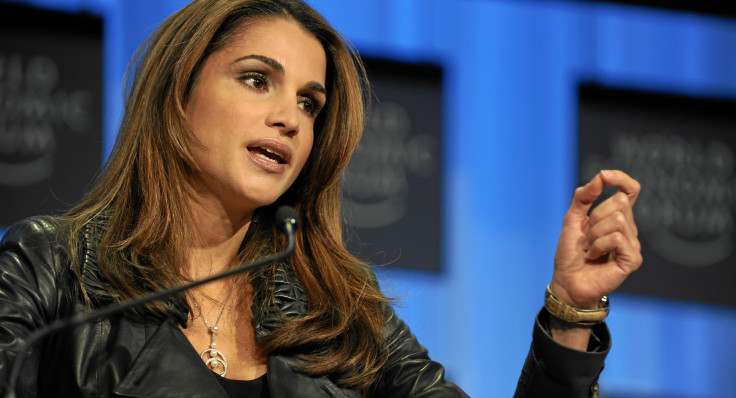 Queen Rania of Jordan has accused the West of having "double standards" as the Israel-Gaza conflict continues to claim hundreds of lives.
Rania, who was born to Palestinian parents in Kuwait, slammed the Western leaders for not condemning Israel's bombardment of Gaza, in which hundreds of civilians have lost their lives.
She accused them of "aiding and abetting" the killing of Palestinians, adding that they have been "complicit" in what is unfolding in Gaza. Speaking to CNN's Christiane Amanpour, Rania said: "In the last couple of weeks, we have seen a glaring double standard in the world."
"When October 7 happened, the world immediately and unequivocally stood by Israel and its right to defend itself and condemned the attack that happened ... but what we're seeing in the last couple of weeks we're seeing silence in the world," she said.
"Are we being told that it is wrong to kill a family, an entire family, at gunpoint, but it's OK to shell them to death? I mean, there is a glaring double standard here," she said. Queen Rania went on to add that the conflict did not start on October 7, but it began 75 years ago.
More than 6,500 Palestinians, mostly civilians, have been killed in retaliatory Israeli strikes after Hamas launched an unprecedented coordinated attack on Israel earlier this month.
The death toll has surpassed that of the third war between Israel and Hamas in 2014, according to the United Nations. It is the deadliest war for Israel since the 1973 conflict with Egypt and Syria.
According to the United Nations, over 1,100 women and 2,000 children, as well as journalists, medical workers and first responders have been killed in Gaza. At least 35 UN workers have also been killed.
The UN report claimed that entire neighbourhoods have been reduced to rubble and one million Palestinians have been displaced.
"Gaza remains under a full electricity blackout, and hospitals are on the brink of collapse," it said.
UN experts have accused Israel of committing "crimes against humanity" and have called the Gaza blockade "unspeakably cruel".
It has called for an urgent ceasefire and the free movement of humanitarian aid, but to no avail. The United States, in fact, vetoed a Security Council proposal for a humanitarian pause on the killings and the bloodshed. The UK also refused to support the resolution.
However, the United Kingdom has pledged to work closely with Israel and regional partners to address the humanitarian crisis in Gaza.
Queen Rania also came down heavily on the West for their refusal of a ceasefire in the region. Israel and its allies believe that a ceasefire will only benefit Hamas.
© Copyright IBTimes 2023. All rights reserved.