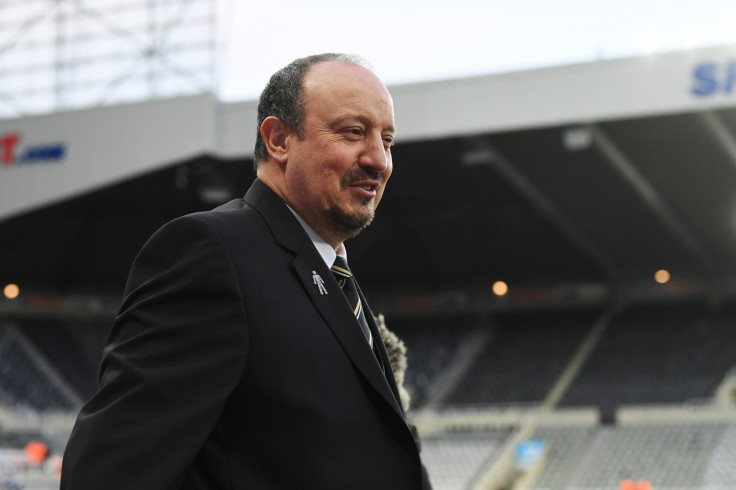 Newcastle United manager Rafael Benitez remains in the dark over the size of the club's budget during the upcoming January transfer window.
The Spaniard spent much of the summer bemoaning the lack of funds made available to him, and little appears to have changed ahead of next month.
With Mike Ashley having stated his intention to sell Newcastle before the end of the year and Amanda Staveley remaining locked in talks over a possible deal, the club's long-term future remains in some doubt.
"We are still working on that," Benitez said, according to Sky Sports, when asked about what he will have to spend as he previewed Wednesday's (13 December) visit of Everton.
"We are monitoring players but at the moment we don't know how much money is available. All we can do is concentrate on football and the games.
"We don't know what the budget is. We know what we need. But can we get that? I don't know.
"It is always helpful if you have information. Hopefully after the Everton game and a win we will have good news and everybody will be happy.
"It is important to know because we are working really hard with the scouts. We have a lot of names, but we do not know exactly how much we have.
"I was asking [managing director] Lee Charnley the other day and I am waiting for an answer in a few days.
"A lot of teams around of us have spent a lot of money and are still around us. We need to stay calm, work harder and we will start winning games."
Regardless of the money that Benitez does or does not have to spend, it appears deeply unlikely he will see any of the £500m rumoured to be offered by Staveley to improve the squad upon her arrival.
The lack of clarify over Newcastle's transfer plans comes amid a seven-match winless run in the Premier League that has seen the club plummet down the table.
The 3-2 defeat to Leicester City on Saturday was Newcastle's third in a row at St James' Park and sees the club just two points above the relegation zone ahead of the visit of Everton.
Benitez has previously claimed he did not need to sell in order to finance moves for new players, but it is yet to be seen whether that remains the case when the window opens in the New Year.
"At the moment we aren't thinking about selling anybody because we need our players," the former Chelsea and Real Madrid boss stated. "I don't know how much money will be available or what we will do.
"We have to be sure that this group of players continue to work as hard as they are doing at the moment.
"If we can bring in some positions or some help, we will do it. But to do that, sometimes you don't need to sell players to be sure you can attract the others."