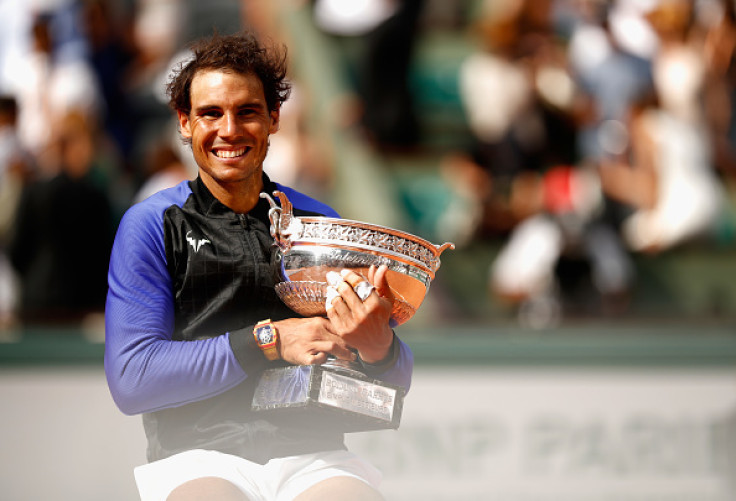 Rafael Nadal has announced that he will be skipping the Aegon Championships at London's Queen's Club beginning on 19 June on advice from his doctor to get sufficient rest following his 10th French Open triumph at Roland Garros on Sunday (11 June).
The Spaniard was expected to return to action at the Queen's Club as he began preparations for the upcoming Wimbledon Championships, but has withdrawn after admitting that his body needs rest following a long clay court campaign.
Nadal has played 10 tournaments thus far this season, and only Stan Wawrinka can equal that tally in the top five ranked players on the ATP Tour. The 31-year-old has made seven finals and picked up four titles along the way and is keen to be in good physical shape to play in Wimbledon early next month.
"I am very sorry to say that I am not going to be able play Queen's next week," Nadal said, as quoted on ATP's official site. "I am sad to make this decision because I love Queen's, I won the tournament in 2008 and every time I reached the Wimbledon final it was after playing Queen's."
"I was hoping to take some days off and then be ready but, at 31, and after a long clay-court season with all of the emotions of Roland Garros, and after speaking to my team and doctor, I have decided my body needs to rest if I am going to be ready to play Wimbledon.
"Sorry to all the great fans in Britain and to the tournament organisers. I hope to see you at Queen's next year," the 15-time men's singles Grand Slam champion added.
Andy Murray will lead the field at the Aegon Championships with Wawrinka also expected to play. The Scot, who is the defending champion, will hope to regain his form after a dreadful clay court campaign as he begins preparations for the short but intense grass court swing of the season, which will culminate at SW17 next month.