Rafael Nadal produced another sublime clay-court masterclass during Sunday's (11 June) French Open final to make history as the first male player of the Open Era to win 10 titles at one Grand Slam tournament.
The Spaniard ended 2015 champion Stan Wawrinka's 100% record in major finals with a dominant 6-2 6-3 6-1 victory at his spiritual home on Philippe-Chatrier Court to continue a remarkable resurgence and claim 'La Decima' while replacing the struggling Novak Djokovic as world number two. A 15th Grand Slam triumph also sees him move clear of Pete Sampras on the all-time list and three behind old rival Roger Federer.
It is another remarkable achievement for Nadal, whose status as the greatest clay-court player that tennis has ever seen is surely now absolutely guaranteed.
The 31-year-old had been stuck on 14 titles since achieving his ninth success in Paris three years ago, beset by injuries that led many to question if retirement might loom.
However, with Carlos Moya appointed to his coaching team, a stunning revival in 2017 saw him lose to Federer in Melbourne before reasserting his dominance on the red dust with his 10th wins in Monte Carlo, Barcelona and Madrid.
"This final to win La Decima for me is very, very special," said Nadal, who received the Coupe des Mousquetaires from his departing uncle Toni. "It's very emotional for me. The feeling I have here is impossible to describe. The nerves, the adrenaline that I feel when I play in this court is impossible to compare. It's the most important tournament in my career and to win again is something I can't describe."
After consecutive holds to start at Roland Garros, Wawrinka brought up the first break point opportunity with a couple of overarm smashes after some fine defensive hitting from Nadal. However, the indisputable King of Clay saved it with a fine backhand and rattled down an ace to keep the first set on serve.
Third-ranked Wawrinka, a three-time Grand Slam winner who beat Nadal in the 2014 Australian Open showpiece, impressively saved four break points in a marathon fourth game, but was unable to rescue three more trailing 3-2 after slicing a lazy backhand into the net. Nadal followed that with an easy hold and broke again on a long forehand to seal a 41-minute opening set.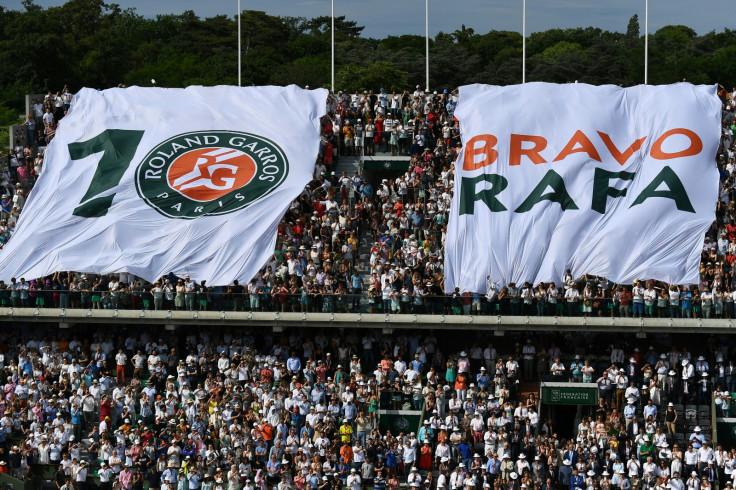 The winner of the first set has triumphed in all 18 of the previous meetings between these two players and things looked ominous for Wawrinka when he was broken to love early in the second after some more sublime deep forehands from Nadal - who was handed a time violation by chair umpire Pascal Maria - and another unforced error.
Wawrinka began to strike some winners off his backhand, but could not find the necessary breakthrough while leading 15-30 at 1-3. His next hold was most notable for a sensational forehand winner down the line from a seemingly beaten Nadal that drew audible gasps from the crowd.
The Spaniard then held to love and, having pushed hard for another break, served out the second set after winning a 13-shot rally and inviting another of couple of mistakes from a weary opponent who obliterated his racket in sheer frustration.
Wawrinka was now facing an almost impossible task and that sense of foreboding only increased when yet another terrific forehand saw Nadal claim the second of three break points in the first game of the third set. The Swiss then held narrowly and battled to deuce on Nadal's next serve, only to once again succumb to the Mallorcan's sheer power and unerring accuracy.
Wawrinka, to his credit, fought tooth and nail to avoid another break at 3-1 down in the third but once more the unrelenting pressure told. Nadal supplied another confident hold and whipped a forehand into the corner to bring up two championship points. He wasted the first before Wawrinka sliced into the net to help his opponent etch his name further into tennis history.
Nadal did not drop a single set during the tournament and lost only 35 games en route to victory - a total that stands as the second lowest number by a Grand Slam champion in the Open Era. A winner of 73 career singles titles and 53 on clay, his current French Open record stands at a formidable 79-2. His overall record on that surface is a frankly ridiculous 102-2, with his only losses coming at the hands of Djokovic two years ago and Robin Soderling in 2009.
"Rafa, I have nothing to say about today. You were too good," Wawrinka acknowledged. "You are a great example and it's always been an honour to play against you. Congratulations on your career, to you and your team."