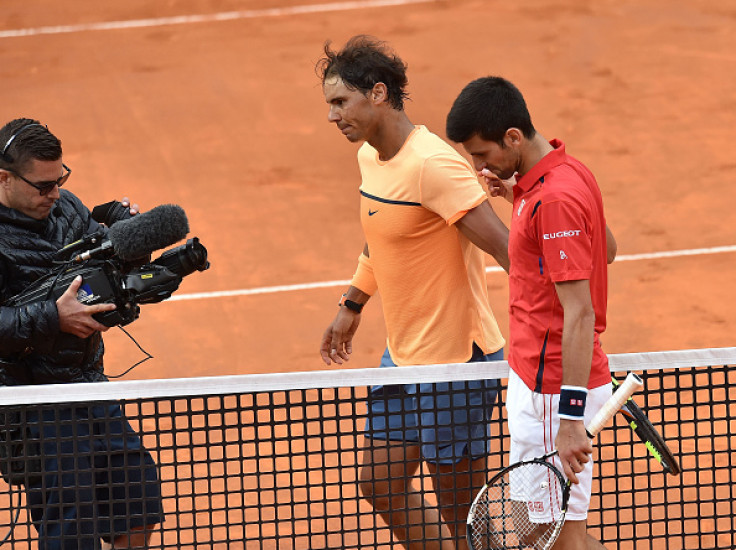 Rafael Nadal and Novak Djokovic's legendary rivalry has spanned 48 games across their careers. The 49th match between these two lived up to the billing with the game going to the wire; eventually the world number one scraped through to save five set points and beat Nadal 7-5, 7-6(4) in the quarter-final of the Rome Masters.
The Serb now leads the Spaniard by 26-23, showing just why he is ranked as the best player in the world and is now favourite to clinch the title this year. Djokovic is the defending champion, having won the title for two consecutive years now.
Despite the loss, Nadal was sporting enough to accept that Djokovic played better tennis. Speaking to reporters at the post match press conference, he said, "I am so happy to be in a close match, and I have to congratulate him. He played great. We played a beautiful match, I was a bit unlucky today. I had so many chances in the first set."
"But when somebody is winning as much as him for the past years, it's important to be opportunistic. He hit some great shots in important moments, that's it."
The world number five, who endured a poor couple of seasons due to lack of form and constant injuries, has looked like his old self, winning the Monte Carlo Masters and The Barcelona Open.
"I've been playing well during the whole clay court season. Today I was mentally fighting for every point, hitting good shots. I was very, very, very close this afternoon, and that's positive."
The 14-time Grand Slam winner is happy to be part of the rivalry with Djokovic. In fact, the tennis world would be poor without it considering Roger Federer is coming towards the end of his career, which leaves only the Spaniard and the Serb among the players of the early 2000's who are still competing at the highest level.
"I'm not disappointed. I was competing at the highest level against the best player. Playing a match like that gives me confidence. I'm happy to be part of this rivalry, we'll talk about this when we finish our career, hopefully a long time from now."
"I feel lucky and unlucky at the same time, to be playing in the same era as Novak."