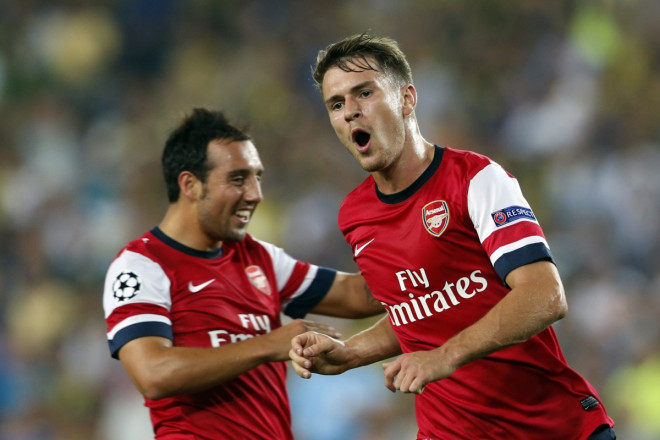 Arsene Wenger has revealed that Aaron Ramsey has suffered yet another setback in his process to return from a thigh injury which he suffered in December.
The Welshman has signed a new contract with the Gunners midway through the season but his recovery has been halted by a series of setbacks which has hurt Arsenal. The likes of Mesut Ozil, Jack Wilshere, Laurent Koscileny, Theo Walcott and Abou Diaby are all out of contention, leaving the Gunners threadbare in midfield and with little creative from the centre of the park.
Kim Kallstrom has recovered from his back problem and came on as a substitute in the Gunners' 2-2 draw with Swansea City at the Emirates which should paper over the void left by Ramsey's absence. Wenger believes that it will be at least two more weeks before the midfielder comes back into action and Arsenal fans will be hoping that his arrival will help Arsenal recover from their slump and keep their top four spot, which is under threat, from sweeping under the table.
"None of them are close to coming back. Koscielny is out for a while. After that Ozil, I don't know but at least two or three weeks. Ramsey is perhaps the closest. He is two weeks maybe," Wenger told www.arsenal.com.
Wenger has also ruled out giving young players a chance to perform at this stage, stating that it will be difficult for them to shoulder the responsibility of the team who are going through a rough patch. The Gunners face Manchester City next weekend where a loss will be a major blow to their top four hopes.
"When you go through a difficult period like that, you need a bit of experience. To put young players under massive pressure at the moment like we are... It is easier said than done. At the moment, I feel that the experienced players did very well and we need that as well in a situation like that," he added.