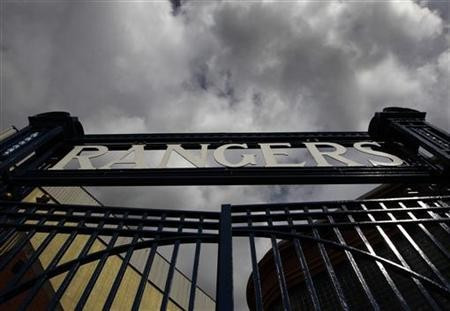 The newco Rangers team look certain to play next season outside the Scottish Premier League after Aberdeen confirmed they will vote against the troubled club staying in - the fifth club out of 12 to announce which way they will vote.
Inverness, Hearts, Dundee United and Hibernian have already stated that they will vote against the new club being allowed to play in Scotland's top division.
Rangers need to pick up an 8:4 majority in their favour - including one from the soon-to-be-liquidated Rangers themselves - for the newco club to be allowed to play in the SPL next season.
Unless there is a U-turn by one of the clubs who have already said they will vote no on 4 July, Charles Green's team will play outside the top flight.
Aberdeen chairman Stewart Milne said: "Traditionally we have preferred not to make public our voting intentions, but in light of the level of interest and the fact other clubs have chosen to show their hand, on this occasion I can confirm it is our intention to oppose readmission to the SPL for any Rangers newco.
"If readmission were to be refused, we believe the appropriate course of action would be for Rangers newco to apply for membership to the SFA and to submit an application for admission to the SFL."
The vacancy in Scotland's top division could instead be taken by either relegated Dunfermline or First Division runners-up Dundee.
The news that Rangers' application to remain an SPL club is to be rejected comes on the same day as a criminal investigation into Craig Whyte's takeover of the club is launched.
The Crown Office public prosecutors has told Strathclyde Police to look into Whyte's purchase of the club and its subsequent financial management.
Whyte bought an 85% shareholding in Rangers for £1 from previous owner David Murray in May 2011 before the club entered administration on 14 February for non-payment of £9m in taxes.
A statement by the Crown Office read: "The Crown Office has today instructed Strathclyde Police to conduct a criminal investigation into the acquisition of Rangers Football Club in May 2011 and the subsequent financial management of the club.
"The investigation into alleged criminality follows a preliminary police examination of information passed to them in February this year by the club administrators."
Rangers have said they welcome the news an investigation is under way.
Rangers chairman Malcolm Murray said: "We welcome any investigation that examines events at the club and will offer every assistance if required.
"The rank and file Rangers fans are blameless. Rightly, they want answers and for those responsible for the club's fate in recent times to be held to account. Hopefully this investigation will assist in this regard."