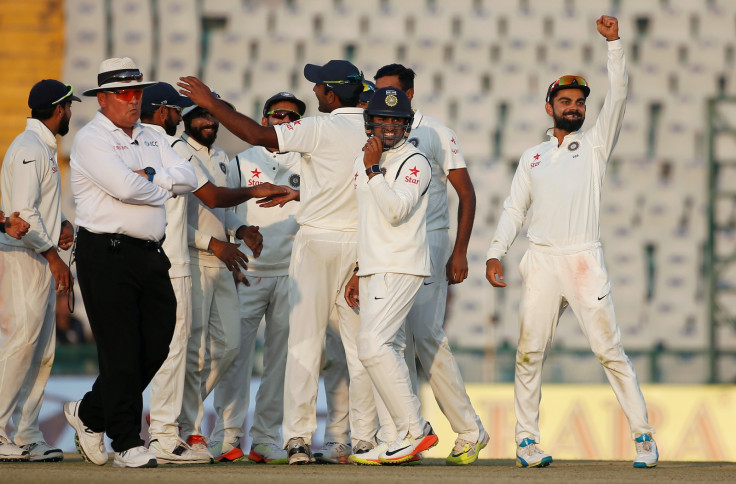 India took a giant stride towards victory in the third Test after dominating England on day three in Mohali. After building a lead of 134 runs, Ravichandran Ashwin took three wickets to leave the tourists contemplating defeat inside four days which will end hopes of completing consecutive series wins in the sub-continent for the first time.
Ravindra Jadeja earlier helped the hosts build a handsome lead over Alastair Cook's side with his highest Test score of 90. Ben Stokes took five for 73 as India were bowled out for 417 – but their healthy advantage of 134 ensured they could attack England from the start of their second innings.
Cook [12] survived reviews in consecutive balls but eventually succumbed to Ashwin, who enhanced his status as the number one bowler in the longest form of the game with a stunning display. Moeen Ali [5] and Ben Stokes [5] both followed as the off-spinner tormented England as they struggled to restore parity.
In between, Jonny Bairstow [15] edged Jayant Yadav behind to leave Joe Root unbeaten on 36, after he opened ahead of injury victim Haseeb Hameed who continues to nurse a hand problem suffered in the first innings. England closed on 78 for 4, still 56 runs away from making India bat again and facing an uphill task to keep the series alive.
"Being an all-rounder is a plus," said Yadav, after scoring 55 and then dismissing Bairstow. "If I bat well then I am more confident when I am bowling. It helps because if you're more confident you can execute those skills much better. The best thing about this team is they haven't made me feel I am playing for the first time. They made me at ease so I don't feel out of place in the dressing room.
"The idea was to bowl at the stumps and it was turning and straightening and that was the plan and it came off. We got four good wickets today and we're looking to pile on the pressure tomorrow."