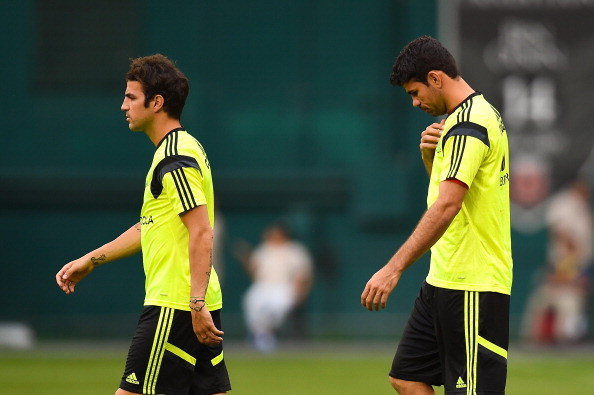 Ray Wilkins has argued that Jose Mourinho's success at Chelsea comes down to his transfer policy and the manager's preference for players who have already proven themselves.
Over the summer the Portuguese tactician was highly lauded for his purchases of the likes of Cesc Fabregas and Diego Costa. The side are currently favourites to win the Premier League and their new signings have settled in well at Stamford Bridge.
And Wilkins believes that Mourinho's transfer policy is working wonders for Chelsea as they look to replace a generation of superstars with a young side just as hungry for success.
The former Blues star told the Daily Express: "Take Cesc Fabregas. He has been the perfect replacement in midfield for Frank Lampard. Why? Because he finishes like a forward, just like Frank did. He doesn't panic when he gets a chance.
"What Jose does so cleverly is that he buys what is already proven - not potential.
"It was already known what Fabregas could do here. He'd been brilliant at Arsenal, but couldn't get a game for Barcelona. So Jose brings him back for £30 million and he is an absolute revelation.
"Lots of clubs bring in players at 20, 21. They are good players - and potentally very good players. Mourinho buys THE player, ready-made."
Chelsea's match-up with Manchester United this weekend will certainly be an interesting game for any fan as United look to recover from a terrible season in the wake of Sir Alex Ferguson's retirement. Mourinho has insisted his side are well equipped to take down a host of stars purchased by Louis van Gaal in the summer and Wilkins is inclined to agree.
"One day soon there will be a day for United when those individuals will all come together and be superb," he said.
"Van Gaal has put a lot of trust in these guys and they need to start repaying him and the supporters. I think they will, and if Daley Blind turns out to be half the player his old man Danny was for Holland, then he'll be some player. He's got that natural Dutch intelligence.
"The only thing at the moment about United - and I'm a huge fan of the club and this side - is that they look as if they are going to concede all the time.
"Can they outscore the likes of Chelsea? At this moment in time, you'd have to say no."
Related