Razor has announced that pre-orders for its Edge handheld games console, which it claims to be the world's most powerful, will open in the US on 1 March.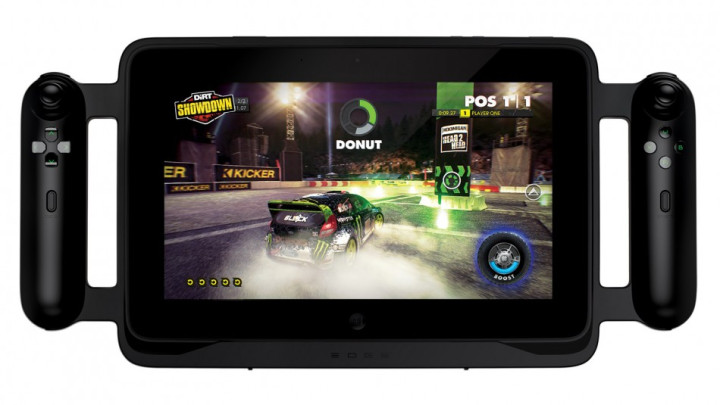 The Edge, which was demoed at CES 2013, will be shipped to US customers at the end of March and will be available in three models. The cheapest version, which uses a 1.7 GHz Intel Core i5 processor and features a 64 GB SSD (solid-state drive), will cost $999 (£600). The mid-range version is priced at $1,299 and includes twice the storage space, 128 GB, and a faster 1.9 GHz Core i7 processor. The highest end Edge will set customers back $1,499, and uses with the same i7 processor as the mid-range model, but has 256 GB of storage.
The Edge is set to combine PC gaming with mobile and console gaming, by allowing users to play current generation PC games on a handheld tablet with physical controls. As well as the Intel i5 and i7 processors, it uses a sophisticated NVIDIA GeForce GTX graphics card, and at CES was shown running Arkane Studio's 2012 hit Dishonored on high graphics settings.
The tablet also runs Windows 8 so users can download apps, games and mods just as they would with a normal desktop PC or laptop. Speaking to IBTimes UK in February, Razer CEO Min-Liang Tan said: "With the Edge we want to compete with the top home console units today...It's a synthesis of everything that is relevant in gaming systems today. It's a touch-control tablet, a portable console-style system, a home console and a laptop. The best way to describe it is as an all-in-one PC gaming solution."
The Edge has a 10in display with 1366 x 768 resolution and can be attached to a keyboard and mouse to be used as a regular Windows 8 computer. Battery life make be an issue for the hugely powerful device, as it is claimed to be just one hour for intense gaming and two hours of regular tablet use. A larger battery will be available seperately, boosting life to two to four hours of gaming and eight hours of less intensive use.
There are currently no UK pricing or release details available for Edge. IBTimes UK has contacted Razer for more information.