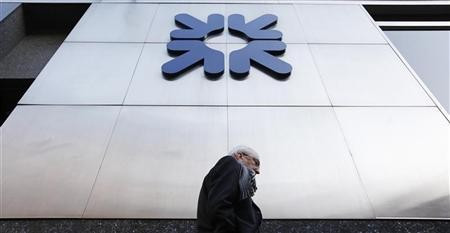 The Financial Conduct Authority has fined the Royal Bank of Scotland £5.6m for failing to adequately report on millions of financial transactions it made in the wholesale markets.
The FCA revealed in a statement that the investment bank failed to properly report 44.8 million transactions going through its systems between November 2007 and February 2013 due to the lack of adequate management and controls.
It added that it failed altogether to report 804,000 transactions between November 2007 and February 2012.
The regulator said that this amount represents 37% of relevant transactions carried out by RBS in this period, and breaches FCA rules on transaction reporting.
"Effective market surveillance depends on accurate and timely reporting of transactions. We have set out clear guidance on transaction reporting, backed up by extensive market monitoring, and we expect firms to get it right," said Tracey McDermott, the FCA's director of enforcement and financial crime.
"As well as a financial penalty, firms can expect to incur the cost of resubmitting historically incorrect reports. We will continue to take appropriate action against any firm that fails to meet our requirements."
Rooting Out Market Abuse
Clear and transparent transaction reporting is important for the investment banks and the regulator as it helps root out suspected market abuse, such as insider trading, rogue trading and market manipulation.
Transaction reporting tracks the lifecycle of a trade and therefore, for example, shows that the pricing, quantity, the counterparties (buyer, seller) and management approval, all tally up.
Most of the errors involved using an incorrect reference code made it "impossible" for the FCA systems to identify the counterparties to a transaction.
While RBS has paid a bumper amount for the failure, it still received a 30% reduction of their fine, because it agreed to settle at an early stage of the investigation.
Without this discount, the fine would have been £8m.
The FCA, which took over from the Financial Services Authority (FSA) in April this year, said these "failures are particularly concerning because the FCA already provides extensive guidance to firms on how to submit and check these reports."
The watchdog has already taken action against seven other companies, including some of the world's biggest banks Barclays and Credit Suisse, for similar reporting errors.
RBS and Market Manipulation
In February this year, RBS agreed to pay £390m ($612m / €451m) to settle US and UK charges related to the manipulation of the benchmark lending rate known as Libor, as well as pleading guilty to a criminal charge of wire fraud from a Japanese subsidiary.
When RBS Securities Japan Limited pleaded guilty to one criminal charge of wire fraud, the bank entered what's called a deferred prosecution agreement under which it cooperates with the US Department of Justice, pay a $150m fine and have that charge and another antitrust charge deferred.
RBS was also ordered to pay an additional £87.5m to the FSA.
In April this year, Japan's Financial Services Agency ordered RBS' Tokyo-based investment bank to overhaul its compliance procedures, after the bank pleaded guilty to criminal charges.