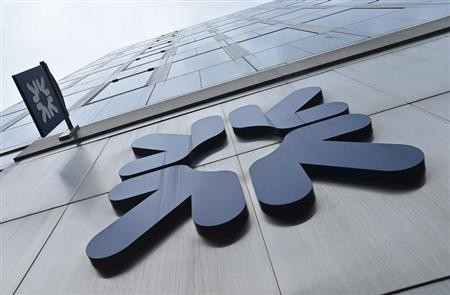 The Royal Bank of Scotland aims to slash 1,400 jobs over the next two years after it unveiled plans to restructure its retail head office functions in the UK.
The group says no customer facing staff will be affected.
"To serve our customers well we have to ensure that our resources are focused on the things that matter most to them. That is why we are investing £700 million in the next three years in new and improving services," said Ross McEwan, CEO, UK Retail at RBS.
"Regrettably, we can only do that by restructuring the way we work in head office so that every effort is concentrated on supporting our customers and the frontline staff that serve them. This is clearly difficult news for our staff and we will do everything we can to support them, including seeking redeployment opportunities wherever possible to ensure compulsory redundancies are a last resort."
However, the group said it will invest £700m into its retail business over the next three years in certain areas
These areas include branch refurbishments, improved complaints handling, quicker and simpler processes for account opening and mortgage processing and improved technology in branches.
This week, RBS chairman Sir Philip Hampton revealed that it is likely that there will be more job cuts as the bank "needs to be more efficient."
Speaking at RBS' Annual General Meeting in Edinburgh on 14 May, Hampton outlined a number of steps the bank is taking, in order to get ready for privatisation next year.
"I believe we have now dealt with the worst of the legacy issues, and, even though that has been a drag on our efforts to complete the recovery plan we set out in 2009, we remain on course to substantially complete the restructuring of RBS during 2014," said Hampton.
RBS had pegged more drastic cuts at its investment banking division after the Bank of England ordered the group to fill a £6bn (€7bn, $9.2bn) hole in its reserves in 2013.
It has already axed 5,000 investment banking jobs.
Related Articles:
RBS Chairman Sir Philip Hampton: More Job Cuts on Horizon
Stephen Hester Profile: CEO Behind Transformation of RBS
RBS' Pot of Problems: Mis-Selling, Lawsuits and Compensation
RBS Chairman Philip Hampton: Bank 'Ready To Privatise in a Year' [VIDEO]