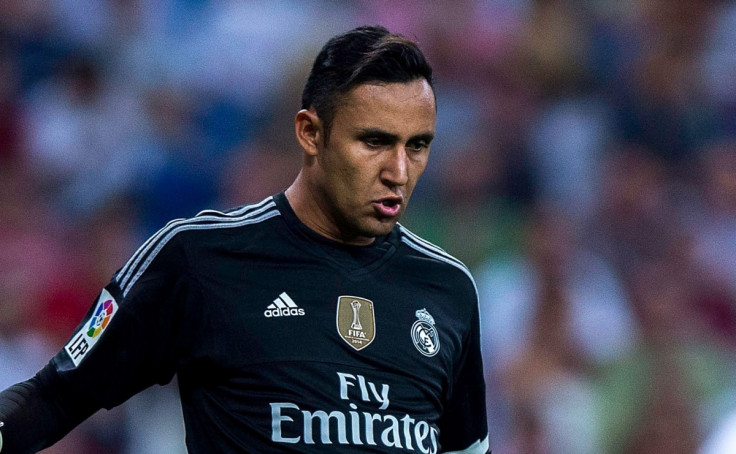 Real Madrid goalkeeper Keylor Navas has denied having had any interest in joining Manchester United during the summer transfer window despite being lined up to move to Old Trafford as part of David de Gea's proposed return to Spain. The deal collapsed after the transfer was not processed on the Fifa's transfer matching system, but the Costa Rica international has reaffirmed his commitment to Real.
Despite not being expected to be the number one for Real this season, Navas has begun the season in fine form, keeping a record five La Liga clean sheets in a row. He can break a 40-year-old club record should he not concede in the first 72 minutes of the upcoming game against Athletic Bilbao. Miguel Angel's 431-minute run without letting a goal in has stood since the 1975-76 season, but Navas is on the brink of eclipsing that.
Such form has come amid the collapse of his move to United in the final minutes of the Spanish summer transfer window. Real and the Premier League giants failed to process the move in time, with both clubs blaming each other for the failure to complete the deal. Navas however has attempted to distance himself from the story and insists he is concentrated on the current challenges he faces.
"I never thought of leaving Real Madrid," he said after the 1-0 win over Granada, according to Goal.com. "I always wanted to stay here. I am happy here and hope to stay for many years in this shape.
"The transfer to United was complicated, it is not a comfortable situation. But it's now over to me and I am just trying to be focused on the present. That's the only thing it matters. I am aware the fans always backed me in any situation."
De Gea's proposed move to Real has since taken another twist after the Spain international signed a new four-year deal with United, which draws questions over whether Real will make a second attempt to lure the keeper back to his homeland. The 24 year old has been in fine form since being recalled by Louis van Gaal, making a string of saves in the win over Southampton.