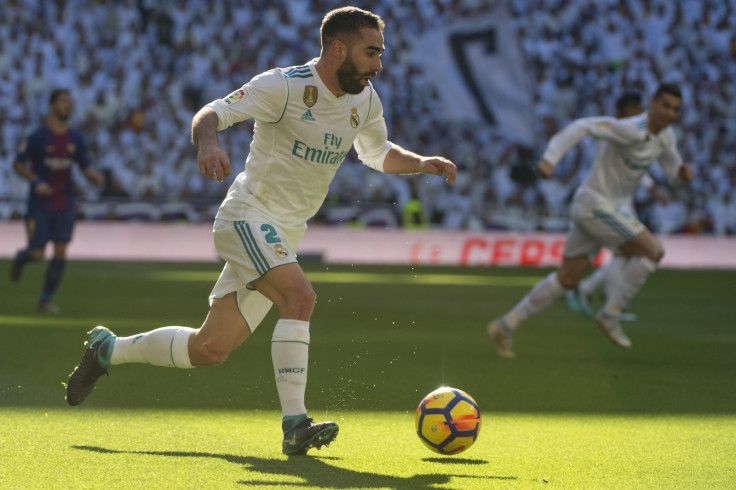 Real Madrid right-back Dani Carvajal is set to miss the first leg of the club's Champions League last-16 tie against Paris Saint-Germain on 14 February after an appeal against his two-game ban for picking up an intentional yellow card during Los Blancos' 6-0 victory over APOEL was rejected by Uefa.
The 26-year-old was booked in the final stages of Real's penultimate group stage encounter against the Cypriot outfit for wasting time.
Carvajal was only one yellow away from suspension before that game so the subsequent ban saw him miss the final group stage victory over Borussia Dortmund.
Real had already guaranteed themselves a place in the last 16 as runners-up behind Tottenham Hotspur in Group H with that 6-0 win over APOEL.
On 22 November, Uefa revealed that they had opened an investigation into Carvajal's yellow card amid suggestions that the Real right-back picked it up internationally in order to miss the meaningless clash with Dortmund and start the Champions League knockout rounds with a clean disciplinary slate.
Article 15 of Uefa's disciplinary regulations states that players could be handed a "suspension for two competitive matches or a specified period for clearly receiving a yellow or red card on purpose".
Last month, Uefa confirmed that the Spain international had violated that article and consequently handed him a two-game ban.
Carvajal missed the victory over Dortmund as a result but the extended suspension meant that he was also set to be unavailable for Zinedine Zidane's side for the crucial last-16 first leg against PSG.
Real issued an appeal in hope of seeing the sanction reduced but that has now been dismissed by Uefa, meaning that Carvajal will definitely miss the game at the Santiago Bernabeu.
"The UEFA Appeals Body met on 1 February following an appeal lodged by Real Madrid CF against the decision announced by the UEFA Control, Ethics and Disciplinary Body (CEDB) on 7 December which ordered Real Madrid CF player Dani Carvajal to be suspended for two (2) UEFA competition matches for which he would be otherwise eligible.
"The appeal lodged by Real Madrid CF has been dismissed and the UEFA CEDB's decision of 7 December is confirmed.
"Given that Carvajal did not participate in the match between Real Madrid CF and Borussia Dortmund played on 6 December 2017, the player still has to serve one (1) UEFA competition match for which he would be otherwise eligible."
The news will come as a massive blow for Zidane, with Carvajal regarded as a key member of his backline due to his defensive solidity and ability to get forward and join the attack.
The Spain international was expected to play a particularly important role against PSG given that the Ligue 1 leaders typically deploy Neymar down the left flank. However, Zidane will now definitely have to look elsewhere in order to try to stop the former Barcelona star.
19-year-old Achraf Hakimi has served as Carvajal's back-up since the summer departure of Danilo to Manchester City, but the Real boss may opt for a more experienced alternative in the form of the versatile Nacho.