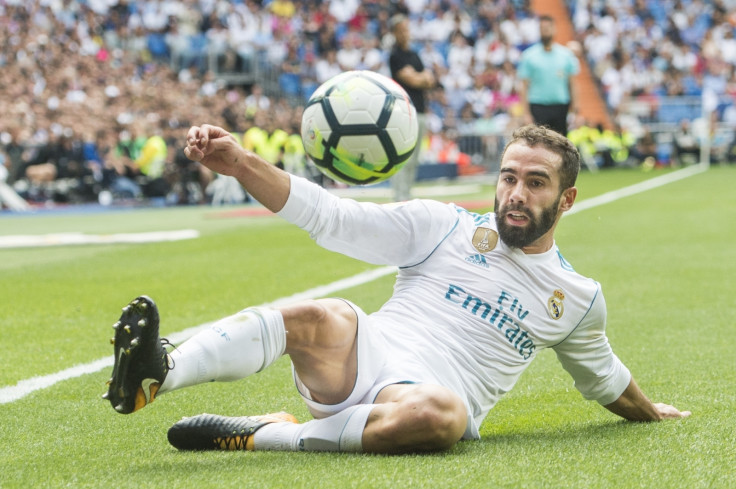 Dani Carvajal has outlined his plans to remain at Real Madrid for the rest of his career after being once deemed surplus to the requirements at Los Blancos by current Manchester United manager Jose Mourinho.
The Spanish international used to be considered as one of the next big things to emerge from the Real academy after he joined the club from Leganes at the age of 10.
The right-back indeed won the Under 19 European Championship with his national team in 2011 before playing a crucial role in Castilla's promotion to the second tier of Spanish football in the 2011-2012 season.
Chelsea summer signing Alvaro Morata and Stoke City's Jese Rodriguez were at the time rewarded with their first-team debuts by Mourinho but the current United boss felt that Carvajal was not ready and decided to sell him to Bayer Leverkusen during the summer of 2012.
The Spaniard proved the current United manager wrong and forced Real to re-sign him the following summer by activating a buy-back option after he was named the best right-back in the German league during the 2012-2013 season.
"I was in the academy and at that moment Mourinho didn't think I was ready for the first team. Then our paths went different ways and I returned to the club" Carvajal pointed out during a press conference held after the right-back put pen to paper on a new deal at Real Madrid until 2022.
"In sportsperson's career there are good and bad times. The important thing is to overcome them and become stronger. The decision to leave the club was good from the point of view of my growth. I trusted myself and I responded well. From the first moment Zidane arrived, he put his faith in me. I'm unbelievably grateful to him for that. My confidence grew with the change of coach and the results are being seen with him."
The 25-year-old has since established himself as one of the best right-backs in the world, helping Los Blancos to win three Champions League crowns and one La Liga title in the process.
Some big European clubs like Manchester City have thus been linked with his services in recent times but Carvajal has revealed that he has inserted a massive release clause in his contract in order to ward off potential suitors.
"When someone is as certain as I am, I want to always be here, I don't even bother listening to the offers. I'm focused on giving my best and the club is rewarding me. We don't listen to offers. I don't remember exactly what the clause is, but it's high so that no one can take me away," Carvajal added.
"My goal is to win as many titles as possible. Going down in history of the club isn't easy. This generation is doing that and all of madridismo is proud of us. I would like that the day that I leave, everyone knows that I have given everything for this club and that they are proud."
Carvajal is still 25 years old but the right-back didn't hide that his other long-term dream would be to replace Sergio Ramos as Los Blancos' captain.
"It would be a lie if I said I hadn't thought about it. Being Real Madrid captain is something which everyone dreams of," the defender admitted. "But you have to think about the present, Sergio Ramos is the captain and if the day arrives, it'll be a long time from now. And obviously I would be delighted."