When journalist Sid Lowe started a media campaign to make people aware of the plight of Real Oviedo last November, he could surely never have imagined that the club would avoid liquidation thanks to fans from 60 countries buying shares and the world's richest man lending his substantial financial support.
Few football fans outside of Spain would have been aware of the club and its rich heritage. Founded back in 1926 they became the first club from the region of Asturias to ever play in the top flight. They would go on to spend 38 seasons in La Liga and even qualify for the UEFA Cup in 1963.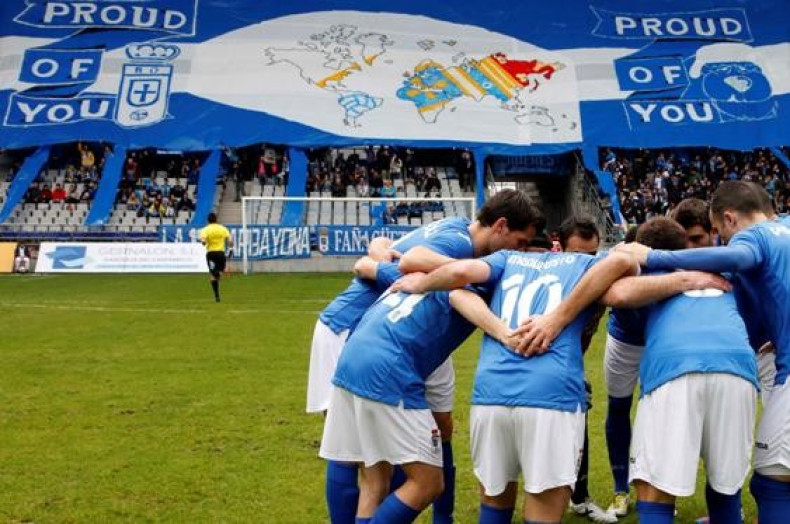 From 1988 until 2001 they remained in the top division of Spanish football, consistently overachieving until severe mismanagement led to financial problems. Consecutive relegations were then compounded when an administrative relegation for not playing players' wages condemned them to the fourth division.
The club remained in deep economic trouble with the majority shareholder refusing to sell before disappearing with a huge a huge sum of money. Oviedo were left to raise £4million but at least the shares would now be diluted and the ownership of the club could be put into the hands of the fans.
A campaign was launched and football fans from around the world united in order to try and save a club with which they had no affiliation. Something about the club's plight struck a chord with supporters. Rivalries may exist but football remains a community and soon shares were being purchased as far afield as Botswana, Australia and even one was sold to a person in the North Pole.
In total 20,000 shares were sold worldwide. Many of the new Oviedo owners resided in the UK as fans from an array of clubs banded together to save this relatively unknown Spanish club. At a time when football was in the news for all the wrong reasons, from racism to match fixing, it was a chance for supporters to feel part of something unique.
Further investment arrived from former players Michu, Juan Mata and Santi Cazorla, before Carlos Slim, who has an estimated worth of $73billion, also made the decision to buy a shares in Oviedo.
By the time the November 17 deadline arrived, the club had been saved with 41% of shares belonging to the fans. In celebration an international supporters day was held with shareholders from all over the world descending upon the small town of Oviedo to celebrate.
The local supporters were overwhelmed at the generosity, as was star striker Diego Cervero who is hoping to lead his boyhood club back to the top flight. "Ten years ago it was inconceivable that today I'd be here trying to speak English with a true Oviedo fan in an Oviedo kit from England. It is an honour to live up to this responsibility and I hope they keep on doing so and are able to experience Oviedo in the first division."
A special bond has appeared between the club, its players and the shareholders. They feel part of something special as perfectly summer up by IBTimesUK journalist Vanessa Keller who made the trip to Oviedo after purchasing shares last November.
"I had never even heard of Oviedo before I found out about the club's plight, and now I would say it's one of the most special places I've been. The people are what made it so amazing; they were so grateful and happy to include us in their match day rituals.
"On the day of the game we were treated like celebrities, fans were getting photos with us and cheering for us. Singing with the supporters truly was one of the best experiences I've ever had at a football match. Since then they've been so welcoming and I feel like a true Oviedista, and I'm already looking forward to my next trip."
Oviedo are now a step closer to realising their dream of returning to La Liga. With just one game remaining they are currently third in the Segunda Division B Group 1 Standings. They will enter the rather complicated play-off system but you would certainly not bet against the side emerging as victors and playing next season in the second tier.
At a time when the integrity of players and clubs is being brought into question by the new president of the Spanish League Javier Tebas, who believes match mixing is rife in Spain, it is vital that we are reminded of the good that remains in the game.
With a global fanbase now firmly established you can only hope that Oviedo's resurrection continues and that good times are head. But the final word must go to Michu, the midfielder who spent more than a decade at the club and is adored by supporters, staff and even the current players.
"Real Oviedo is a football club like no other, it's a club that almost died but was saved by fans all over the world. I dream of Real Oviedo being in La Liga in two or three years and of course I want to be with them."
Below is a documentary by Copa90 on the heart-warming story of how a global football community came together to save Real Oviedo.