Real Sociedad vs Real Madrid: Ronaldo and Benzema out but Zidane hopes for Manchester City return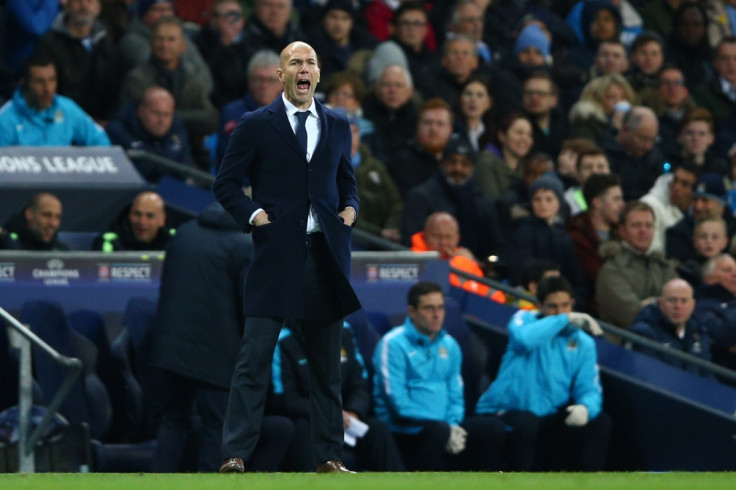 Real Madrid manager Zinedine Zidane hopes Cristiano Ronaldo and Karim Benzema could be 100% fit for Wednesday's (4 May) visit to Manchester City, despite the duo missing the trip to Real Sociedad this Saturday (30 April).
The French boss claimed that Los Blancos are only focused on their La Liga game but has also left Toni Kroos out of his 19-man squad as the team also have the Champions League second leg semi-final in mind. Alvaro Arbeloa, meanwhile, will also miss the travel to San Sebastian after he missed the Friday training session.
Los Blancos visit the Anoeta Stadium in need of a victory to keep their hopes of winning La Liga title alive, currently one point behind joint leaders Barcelona and Atletico Madrid with just three games left. Yet, Zidane is expected to rotate his line-up as the game will come only four days before their crucial Champions League second leg semi-final with Manchester City. The French boss has thus left Kroos out his 19-man squad for technical reasons alongside Ronaldo, Benzema and Alvaro Arbeloa, who are injured.
When questioned on whether he plans to leave Gareth Bale out of the line-up to avoid another injury in his attacking trio ahead of the game with City, Zidane replied: "If Gareth feels fine tomorrow, he will feature. Karim and Cristiano Ronaldo are not fit and will not play. All the others are ready and we will field the team that we think will work best in order to win tomorrow" he said.
"We have three La Liga games left and we cannot slip up. To keep our hopes alive we have to get all nine points and then hope. We know that it is going to be a complicated game at a difficult stadium. We will start the game knowing what we have to do: start strong. In 90 minutes, there will be tough moments, but if we defend as a unit and are all focussed we can get a result there".
"Tomorrow you will see the team, but my idea is to focus on tomorrow's game and then think about Wednesday. Tomorrow we will think about tomorrow's game and about doing the most we can to win, as always. Tomorrow's game is important because it is better to play a midweek game having won at the weekend. Tomorrow's game is key for the fans too as they will be following us and they want to see Real Madrid win" explained Zidane at a press conference.
Ronaldo already missed the last weekend La Liga victory over Rayo and the 0-0 draw at the Etihad Stadium on Tuesday, after he suffered a muscular injury during the team's victory over Villarreal on 20 April. Benzema, meanwhile, was replace at half-time during the game against City after he had already arrived to the Manchester with a muscular problem, having also unable to complete the previous game with Rayo.
Zidane hinted at hopes that the duo will be ready for the European encounter on Wednesday, but suggests that he will not take any further risk with them; if they are not fully fit, then they will miss the game.
"Ronaldo had something else, but the most important thing is that it is under control. The key thing is that he recovers as soon as possible so that he can play on Wednesday because tomorrow he will not feature. He will work as hard as possible everyday in order to be fit for Wednesday," the Real Madrid boss confirmed. "He is ready and strong enough to play every game. He plays twice weekly every year, but he knows himself very well and when there is not a game he rests well and recovers quickly. It is harder for some players. It was harder for me to recover but for him it is easier. Players have their own way of recovering. He is ready to play every game".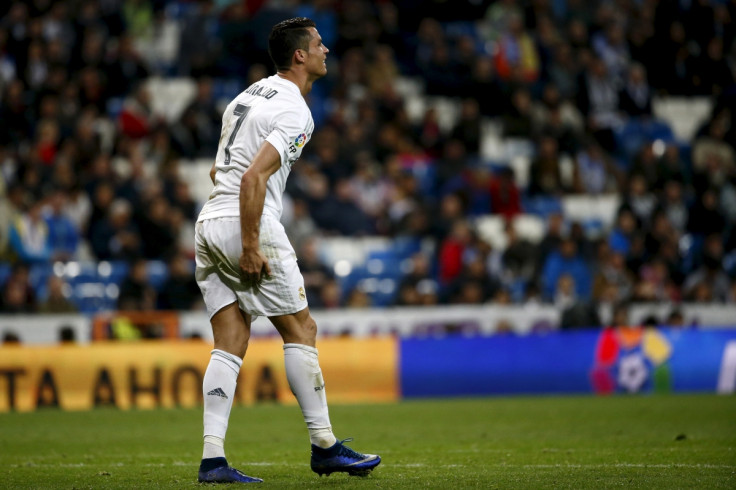 Meanwhile, Zidane was also optimistic to have Benzema available for the visit of Manchester City despite reports in Spain have claimed that the French striker is a major doubt for the game.
"The closing stages of the season will be very difficult but I can't go into details because I'm not a doctor. He has a grade 1 injury and that says a lot. It could last seven days, eight... The important thing is that I think he could be back to 100% for Wednesday and it's vital to see how he works and trains to feature in Wednesday's game. I don't think we should say his season is over because he really wants to play with us".
Ronaldo and Benzema have controversially decided to snub the Real Madrid official doctors, amid suggestions that the squad doesn't trust in the club medical department. Overall, Los Blancos have been hit with more than 25 muscular problems through the season.
But Zidane said: "They agree with the club and we are all trying to do things well, each of us has a duty. My concern is tomorrow's game and obviously I'm worried about the injured players. We want them to recover as quickly as possible, but I'm not going to talk about this any more. We have a game to play tomorrow and that game is the most important one for us".
© Copyright IBTimes 2023. All rights reserved.