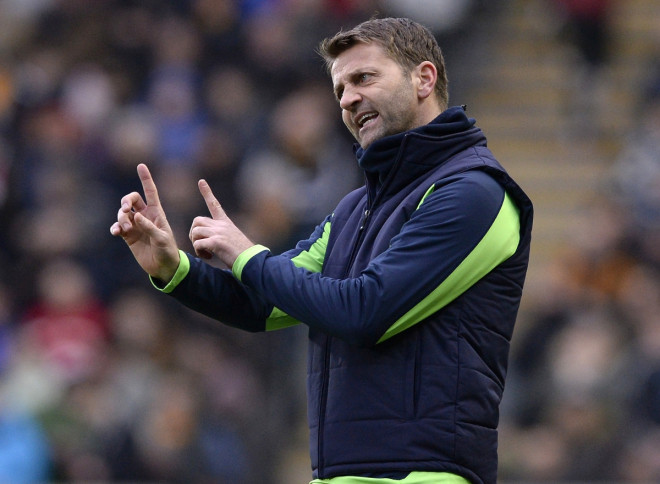 Jamie Redknapp has warned Tottenham Hotspur that defeat against Arsenal in the north London derby on Sunday could end their hopes of finishing the season in top four.
Tim Sherwood's side are fifth in the table with 51 points from 29 games. Meanwhile, the Gunners are fourth with 59 points, having played one game less than their arch rivals. The Emirates club are level on points with third place Liverpool and the two trail leaders Chelsea by seven points.
The former Spurs midfielder believes the north London derby at White Hart Lane can have a significant impact on Sherwood's men. They come into this fixture with two defeats in all competitions.
Spurs suffered a 4-0 crushing defeat to Chelsea at Stamford Bridge last weekend, before losing 1-3 to Benfica at home in the Europa League clash. Redknapp has urged his former club to improve their performance in order to make it to the next season's Champions League.
"Tottenham's Champions League qualification chances hang in the balance - and their north London derby with Arsenal on Sunday will have a significant impact on their top four ambitions," Redknapp told Sky Sports.
"If Spurs don't beat their rivals at White Hart Lane they won't make the top four. It's as simple as that. They already trail Arsene Wenger's side by six points having played a game more and even a draw would leave them too much of a mountain to climb."
"Manchester City are only four points ahead of Spurs but, with three games in hand, I expect them to finish comfortably in those top four places, along with Liverpool and Chelsea."
"I'm pretty sure Arsenal will be there too. They've got some tough fixtures coming up and are perhaps the team Spurs are targeting. But Spurs need one of those four sides to suffer a dramatic collapse between now and the end of the season."
"However, saying that, if the hosts do come away from Sunday's match-up with three points they will be right back in the mix - especially considering the huge boost in confidence that result will give them in their remaining games."
"To do that, though, they are going to have to improve substantially on their recent performances," the former Liverpool midfielder concluded.