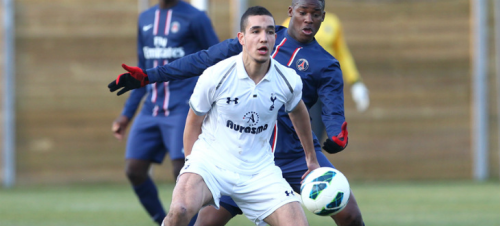 Jamie Redknapp has compared Tottenham youngster Nabil Bentaleb to Barcelona's Xavi with the 19 year old showing much potential under new manager Tim Sherwood.
Sherwood has handed Bentaleb his chance in midfield after taking over from Andre Villas-Boas at the end of last year with the teenager making his debut against Southampton on December 22nd.
And despite his relative inexperience, having spent just a year in Tottenham's youth ranks after making the move from France, Bentaleb has proven to be an important part of the Tottenham squad in the new year as they look to make a serious push for a top four finish.
Former Tottenham man Redknapp believes that the young star has the ability to be as useful for the north London club as Xavi is for Barcelona with his stats during his side's win over Crystal Palace as remarkable as the Spain international's.
"On his full league debut, Nabil Bentaleb, Tottenham's 19-year-old midfielder, made 106 passes," he wrote in the Daily Mail.
"That's more passes than any other player in the Premier League and he completed 93.4 per cent of them, too. That is phenomenal.
"He made 17 more than the next best, his team-mate Mousa Dembele (89), more than double Michael Carrick (50) and was only six shy of Barcelona's pass master Xavi (112).
Redknapp continued: "People say anybody can make five-yard passes, but if they think that's easy, they are kidding themselves. For a teenager to come in and play the way he has is unbelievable.
"Tim Sherwood knows him from the youth set-up and he certainly knows a thing or two about playing in midfield.
"But Bentaleb's ability belies his age. He is confident and plays with a nice arrogance, as if he's saying: 'Here I am, give me the ball.' It was a brave decision to blood the youngster, but it looks like one that will pay off."
Tottenham have recovered well from their changeover in managers and Sherwood appears to have brought a positivity to White Hart Lane which was missing when Villas-Boas was in charge.
Bentaleb will certainly have a lot of competition for his place in the Tottenham starting XI with the club currently boasting a plethora of midfielders but the youngster has so far proved himself deserving of his role.