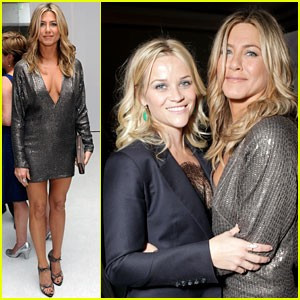 The Legally Blonde star confesses to having somewhat of a girl crush on Jennifer Aniston.
The actress confessed the full extent of her love for the Friends star at Elle's 18th Annual Women in Hollywood Tribute by admitting: 'You just want to get your nails done with Jen and you want to make out with her at the same time - at least I do.'
The 36-year-old actress claimed that she loved Jennifer's 'combination of sex appeal and complete lovability' as she showered he girl crush with compliments.
Reese, who worked alongside the Along Came Polly star back in 1999, when she made a guest appearance as her spoilt sister in Friends, gushed over the star and said: 'On one hand, she is this gorgeous breathtaking beauty that men lose their thought process and their speech patterns over,' Reese said at Elle's 18th Annual Women In Hollywood Tribute this week.
'And, on the other hand, she is a woman who lets you in,' she added.
But sadly any chances of making her dream of getting up close and personal with the Hollywood star a reality have been but to bed for now as 40-year-old Jennifer is currently loved-up with her latest beau , 40-year-old Justine Theroux.