BMW is using a fleet of remote control Mini Coopers to help speed up the London 2012 athletics, by collecting thrown discuses, hammers, shots and javelins from the field and returning them to athletes.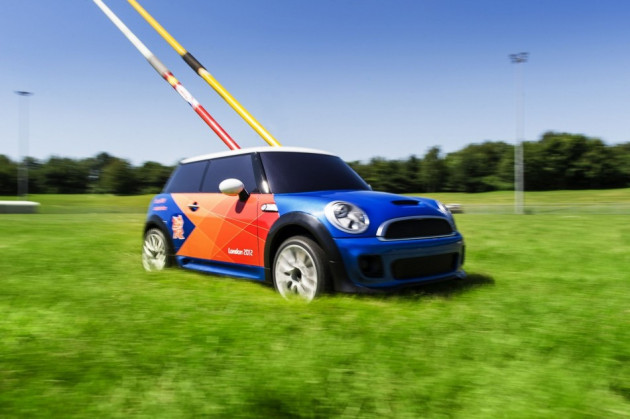 As part of its official partnership with London 2012, BMW - owners of the Mini brand - has provided the electric cars, which are controlled by specially trained volunteers, known as Games Makers.
Powered by a 10hp electric motor, the so-called Mini Minis, which are all painted blue and carry the same stickers as BMW's fleet of real London 2012 cars, can carry up to eight kilograms, the equivalent of a single shot, discus or hammer, or two javelins.
Equipment is picked up by Games Makers then dropped into the Minis through an open sunroof, and the cars even have functioning headlights.
Previously, throwing equipment was returned by volunteers on foot, but BMW was granted permission to use the mini Minis after it proved to Locog that its remote control cars would save time.
Dr Juergen Hedrich, managing director of Mini Plant Oxford, said: "The Mini team was thrilled to be given this challenge to develop a vehicle with such an important and high profile role during the Olympic and Paralympic Games.
"I know that everybody was inspired by the challenge and the knowledge that these models will be seen in action by millions of people around the world."
The Minis are around a quarter the size of a real thing, measuring 1,100mm long, 500mm wide and 400mm tall, but weighing just 25kg thanks to a lightweight composite body.
The fleet of three Minis have a radio range of around 100 metres and can run for 35 minutes of continuous use, while the batteries take 80 minutes to recharge.
Each Mini will cover around 6,000 metres per day during the athletics and they work in four-hour shifts across nine days of the Olympics and another nine of the Paralympics, which start on 29 August.
As part of its London 2012 partnership, BMW also provides a fleet of 1 Series and 3 Series cars, as well as 40 Mini E cars to shuttle athletes around the Olympic Park.