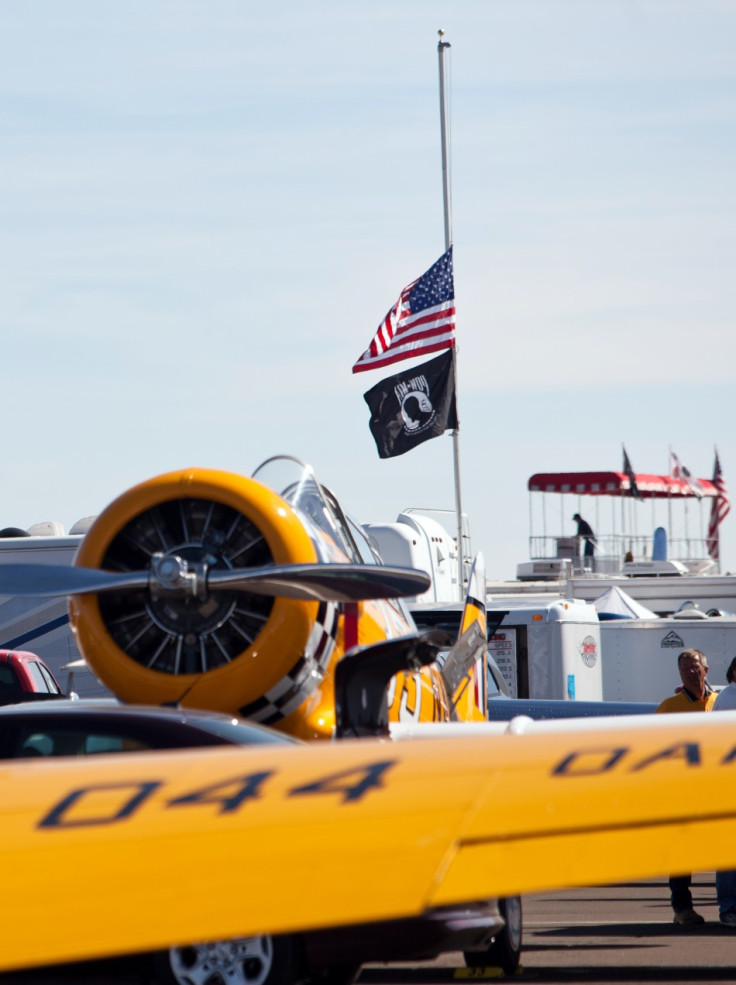 The investigation launched after a vintage aeroplane crashed near a grandstand at an air race near Reno, Nev. on Friday will now focus its attention on the pilot that was killed along with eight other people.
The National Transportation Safety Board is carrying out the inquiry with organisers saying a mechanical fault was probably to blame but are still awaiting the results of an official investigation. The pilot who died has been named locally as Jimmy Leeward and the investigators will now investigate whether there was something the pilot could have done to avoid crashing into the spectators in the VIP seating.
Investigators are now searching for clues as to how the stunt plane crashed at the Reno Air Race, and are looking into reports that the plane underwent years of massive overhauls that took ten feet off of the wingspan. Fox News reports that pilot Jimmy Leeward said the changes made the plane faster and "more manoeuvrable."
"I know it'll do the speed," he said in a podcast uploaded to YouTube in June. "The systems aren't proven yet. We think they're going to be OK," he added.
The world of air racing is a highly competitive, bravado-filled world with pilots going for broke on the ground and in the sky, hitting speeds of 500 mph. Leeward is the 20th pilot to die at the air races since they began 47 years ago, but Friday's crash was the first in which spectators were killed.
The Mustang had not been flying too close to the ground prior to the crash, according to Mike Houghton, head of the Reno Air Racing Association and CEO of the event. He said that there appeared to be a "problem with the aircraft that caused it to go out of control".
"I have tried to pinpoint the feeling I felt when I saw the plane go down. It's a feeling I've never felt and one I hope to never feel again. The best word I can think of is terror," said James Shawn who was at the Reno Air Show with his father Jim.
The father and son had hoped to snap memorable photos of the show but not instead witnessed total devastation.
"It was tremendous shock. You just don't believe what you're seeing. You know you just want to pinch yourself and say wake up this isn't real, hit the replay button on YouTube. It's very strange," the pair added.
Eyewitness Gerald Lent, of Reno, told the newspaper: "It's just like a massacre. It's like a bomb went off. There are people lying all over the runway."
Democratic Nevada Senator Harry Reid issued a statement saying he was "deeply saddened" about the tragedy.
"My thoughts are with the families of those who have lost their lives and with those who were wounded in this horrific tragedy," he continued.