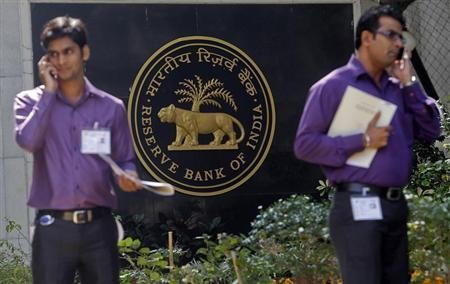 India's central bank has kept its benchmark interest rate unchanged despite eased inflation, as it warned of existing risks related to the rupee depreciation.
As widely expected by analysts, the Reserve Bank of India (RBI) has kept unchanged the 7.25% policy repo rate, which is the rate at which the central bank lends to other banks.
The reverse repo rate at which the RBI accepts deposits automatically remains at 6.25%. The cash reserve ratio requirement for banks was also unchanged at 4.00% of net demand and time liabilities.
"Inflation has moderated as projected. However, upside pressures on the way forward from the pass-through of rupee depreciation, recent increases in administered prices and persisting imbalances, especially relating to food, pose risks of second-round effects," the RBI said in a statement.
"As recent experience has shown, shifts in global market sentiment can trigger sudden stop and reversal of capital from a broad swath of emerging economies, swiftly amplifying risks to the outlook."
On 14 June, India's ministry of commerce and industry reported that wholesale price inflation fell to a 3.5-year low in May. Nevertheless, the country's consumer price inflation is still high at 9.3%, much above the central bank's target of 5%.
Leaving little room for the central bank to cut rates, the Indian rupee touched an all-time low of 58.98 to the US dollar last week. That was in addition to the country's record-high current account deficit.
The RBI noted that food prices and the falling currency pose inflationary risks, along with uncertainties in the global economy. The bank said it wishes to see "a durable receding of inflation" before resuming the easing cycle.
The bank, however, noted that the current account deficit is now expected to stabilise around the government's target of 4.8% of the gross domestic product (GDP), making current account risks less of an obstacle to lower rates.