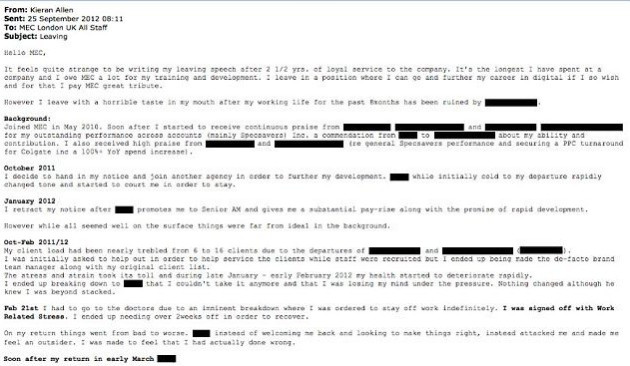 A disgruntled employee's resignation letter, accusing his boss of having sex with a female employee in an office, has become an internet sensation.
Kieran Allen's damning letter, sent to all his colleagues, details his reasons for leaving leading London advertising agency MEC.
In the page long memo, Allen, who was a senior account manager at MEC for two years, makes a series of allegations against his 36-year-old boss, Greg Shickle.
Not only does he claim that Shickle blocked his substantial pay increase but he also accuses him of anti-Semitism, prejudice against the disabled, and sexism.
He alleges that he "regularly made sexist and other bigoted remarks" and "took a female colleague out for a drink on the day he interviewed her, then later took her back to the MEC offices that night and had sexual relations with her in the meeting rooms on the 3rd floor".
Allen concluded his message by explaining to his co-workers that he wished to expose the failings of the company.
"I am a good human being who treats people with respect," he wrote. "Not one thing on this email has been exaggerated or made up. This is my truth to you all," he said.
"No doubt I fully expect the above to be ripped apart but as long as the truth is out there then that's all I can do."
Just hours after Allen sent the message, it became a trending topic on Twitter and appeared on news websites across the globe much to the astonishment of MEC's 5,000 employees.
Shawn Beaudet, who has been named as the infamous interviewee Shickle apparently bedded, has since spoken out about the email.
Although the 25-year-old from Canada denies sleeping with her boss she did admit to acting inappropriately with him.
"I didn't sleep with him. I kissed him. I had been to the pub with Greg for an informal interview for a job. It was a kiss in the foyer whilst waiting for taxis. We were both single at the time," Beaudet said.
She also insisted that she did not get her current job as account manager because of the kiss.
A spokesman for MEC said: "We are sad that one of our employees has chosen to share their personal views in such a public way and has left the company with such bad feeling.
"We are taking this issue seriously though given the highly personal nature of the email, we cannot comment further."