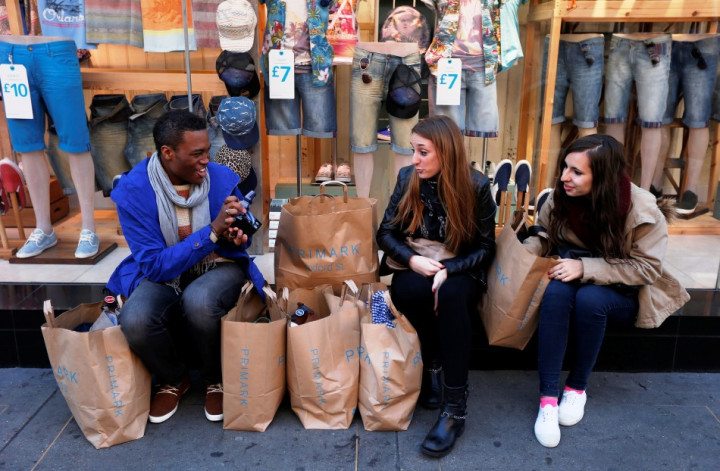 Retail sales volumes on the UK high street inched up in June, slowing after a very strong May on the back of higher-than-usual discount sales by department stores.
Sales volumes increased 0.2% on the month in June. Consumers spent an average of £6.9bn (€8bn, $10.5bn) a week at UK retailers during the month.
Economists had expected retail sales to rise 0.2% on the month, after jumping 2.1% in May, and for sales to be 1.7% higher on the year.
The measure of sales by value rose 3.8% on the year in June, the strongest since March 2012.
Government data showed that the main sources of upward pressure came from the non-store retailing sector and from department stores, where sales rose 3% on the month. This is the highest increase since March 2012.
Feedback from department stores suggested sales had increased owing to promotions and consumers buying clearance items across a wide range of products, the Office for National Statistics said on Thursday.
In the April to June second quarter, retail sales were 0.9% higher than in the first three months of 2013, contributing 0.1 percentage points of growth to gross domestic product in the second quarter, ONS officials said.
The retail sector accounts for just under 6% of the British economy. Thursday's data suggests that Britain's economic recovery gathered steam in the second quarter after growing 0.3% between January and March.
"Retailers have reacted well to the warm weather by discounting products and offering good value to their customers as the retail recovery gains momentum," said Peter Saville, partner at advisory and restructuring firm Zolfo Cooper.
However "a few months of positive indicators will not be enough to undo the past five years of weak consumer and business confidence. Retailers need to make sure they capitalise on this warm weather so that they can thrive well beyond the current heatwave," Saville added.
The British retail sector "continues to serve a two-speed economy," said Ian Geddes, UK head of retail at Deloitte. "Early indications from the Deloitte Consumer Tracker survey, due out next week, show consumers in London are more confident about their disposable income, [while] those [elsewhere] remain a little more squeezed."
"We are still at the start of a long road to recovery as people remain hesitant to spend" Geddes added.
Consumer spending remains under pressure from inflation, which is exceeding wage growth. Data earlier this week showed that the annual rate of inflation rose to 2.9% in June, while annual wage growth, excluding bonuses, was 1% in the three months to May 30.
The British Retail Consortium said earlier this week that a greater number of shoppers thronged the UK high street in June. Footfall was 0.1% higher than a year ago, up from a 0.7% decline in May.