Retromobile Paris 2015: Sensational collection of classic cars found in a barn goes up for auction
A sensational collection of classic cars found in the French countryside, rusting away under makeshift corrugated iron shelters, is going on sale in Paris.
The collection – which has been described variously as "the barn find of the century" and "the automotive equivalent of Tutankhamun's tomb" – includes a Ferrari 250GT SWB California Spider once owned by French actor Alain Delon, that is expected to fetch between €9.5m (£7.1m) and €12.5m.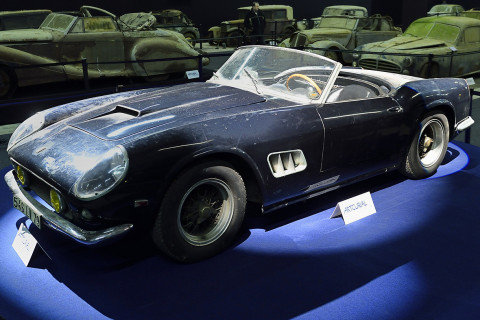 This collection was assembled during the 1950s by Roger Baillon, an entrepreneur who made his fortune running a transport company in western France. His dream was to open a museum of pre-war cars, but his business hit a setback.
Mr Baillon's financial circumstances and ill health meant he was unable to restore the collection and he was forced to sell 50 of the classic cars.
Mr Baillon died a decade ago, and his son, Jacques, who inherited the collection, died last year. Mr Baillon's grandchildren called in Matthieu Lamoure and Pierre Novikoff of auctioneers Artcurial Motorcars to assess the collection. What they found stunned them.
As they investigated, they found more and more cars under makeshift structures, often open to the elements.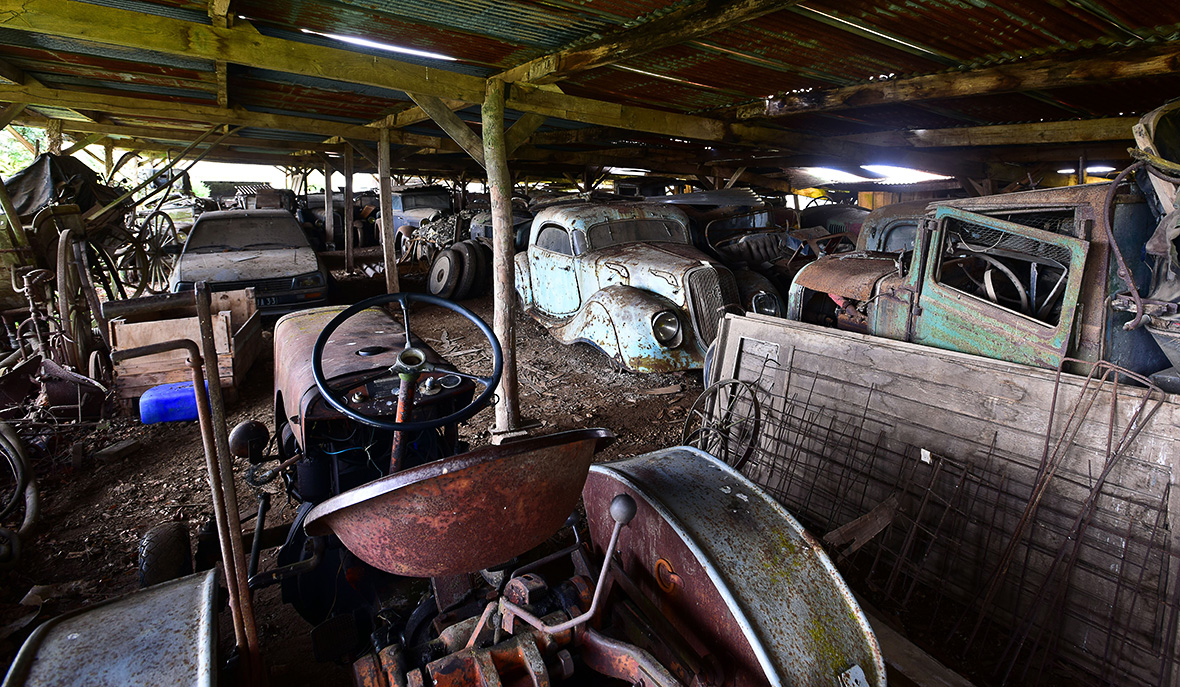 In a garage, the car specialists came across an extremely rare Maserati A6G Gran Sports with coachwork by Frua, dating from 1956. Next to it, under piles of newspapers, they discovered the Ferrari 250GT SWB California Spider, the "holy grail" of motors.
Alain Delon was photographed several times at the wheel of this machine, including in 1964 with Jane Fonda during the filming of 'Les Félins' and on the Côte d'Azur with Shirley MacLaine.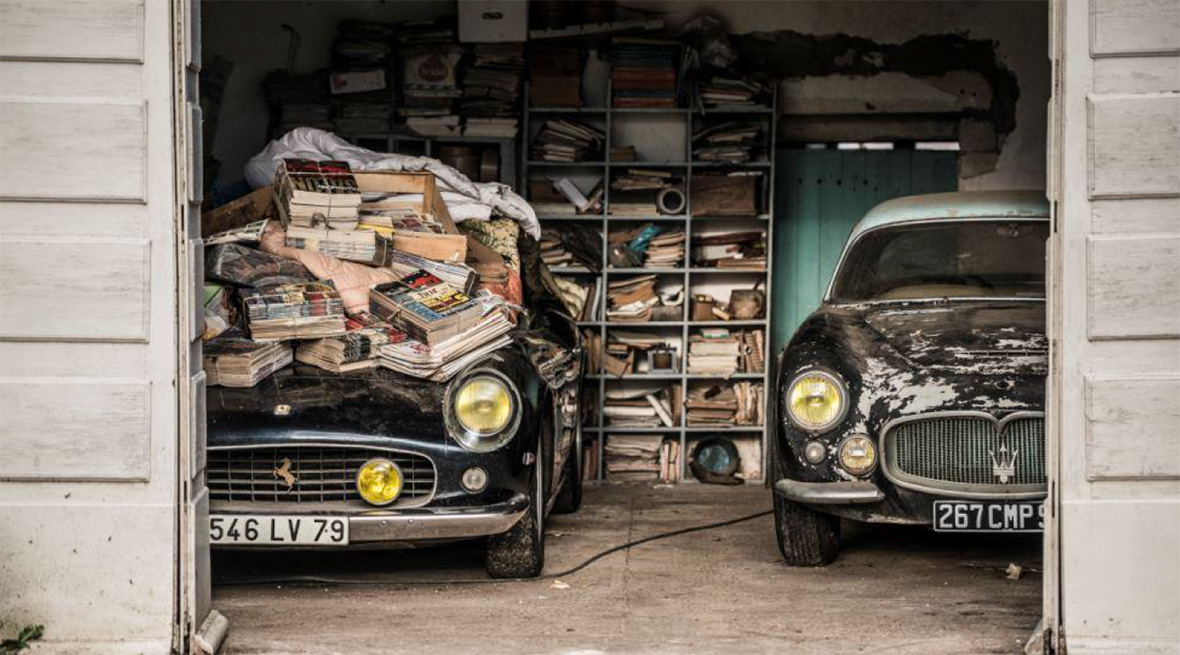 The collection also contains a Talbot Lago T26 cabriolet that once belonged to King Farouk. The Egyptian king, who was overthrown in 1952, was renowned for his extravagant lifestyle, owning many rare classic cars.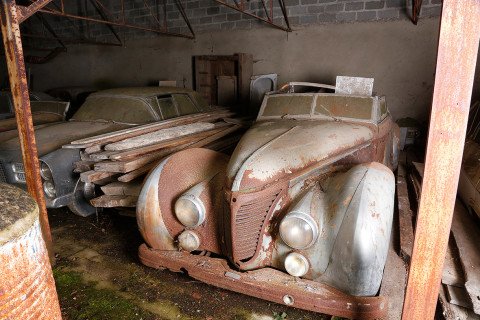 The cars are being shown, in the condition in which they were found, at the enormous Retromobile Exhibition 2015 in Paris, which opens today.
Mr Novikoff from Artcurial said: "I'm not sure I've ever seen so many exceptional cars together in one collection : Bugatti, Hispano-Suiza, Talbot-Lago, Panhard-Levassor, Maserati, Ferrari, Delahaye, Delage...
"Roger Baillon saved these cars and succeeded in his task: to trace the history of the automobile through the finest examples."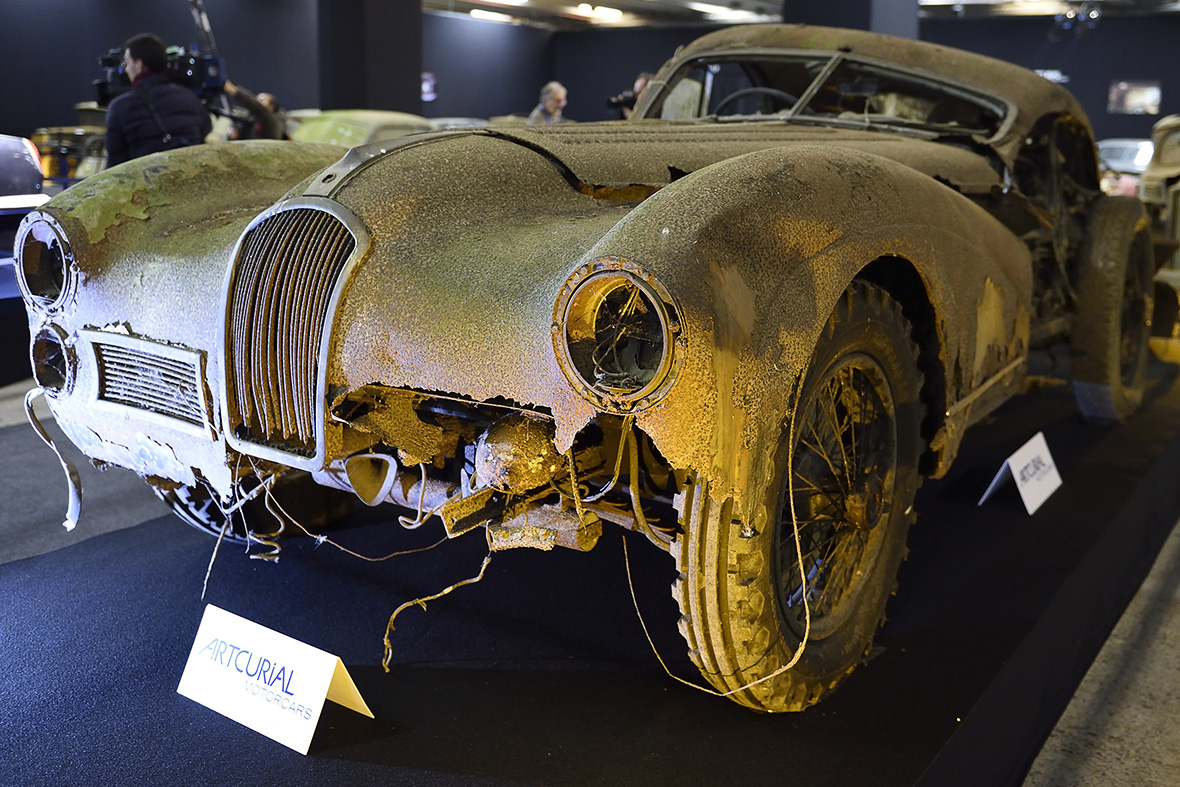 Artcurial Motorcars' auction of the Baillon collection will be held on Friday 6 February 2015 at the Retromobile exhibition in Paris.
Bonhams will also have an auction of vintage motor cars and motorcycles at the huge annual car show.