The Motorola Defy+ describes itself as 'lifeproof' - an Android smartphone that is scratch-, dust- and even waterproof, while still packing a 3.7-inch touchscreen display and a five megapixel camera.
Before you even touch the Defy+ you must be aware that this phone is made to be strong, tough and unbreakable. As a result, it's not as attractive as some other smartphones and every port has a rubber cover, making the Defy+ somewhat bulky.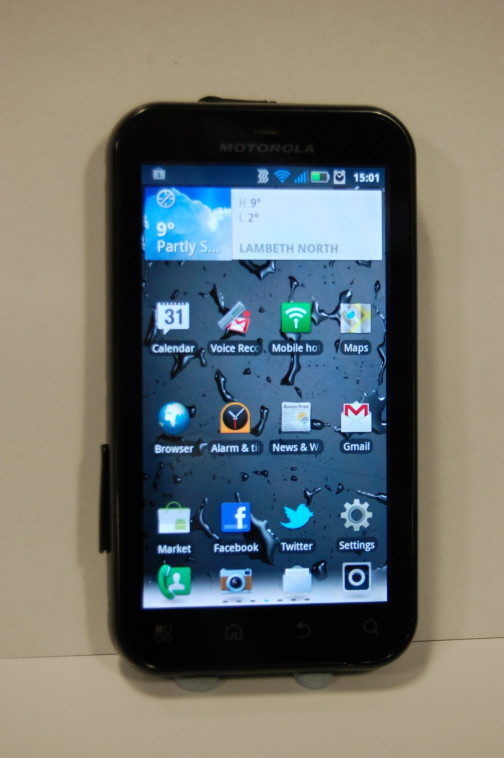 Look and feel
The tough, industrial design is most evident with the three exposed screw heads on each side of the phone and the chunky feel; having said that, the Defy+ doesn't shout too loudly about its unique selling point of being tough and 'lifeproof'. We think this is a good thing, as surely the vast majority of potential smartphone owners would put a clean and attractive design ahead of one that looks like it'll withstand a nuclear war.
The 3.7-inch screen takes centre stage and is accompanied on the front with four touch-sensitive buttons for Options, Home, Back and Search which all give a small vibrate - or 'haptic' feedback - when touched. There's also a proximity sensor and ambient light sensor by the earpiece.
While not as sharp as some competitors, the Defy's screen has a resolution of 480x854 and is plenty bright enough to combat the high screen glare that plagues most smartphones.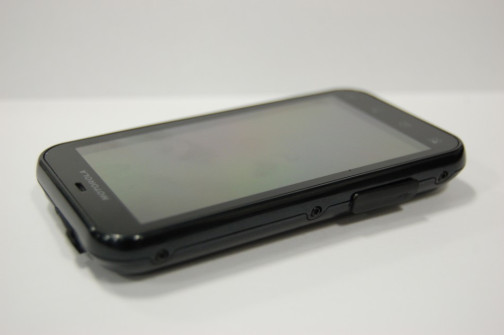 There's a volume rocker on the right side and the power/lock button is up top; it must be said that these buttons are quite stiff to press. Granted, our review unit is only a week old, but the buttons are noticeably hard to press, presumably because they are tightly packaged to aid with the dust- and waterproof claims.
Also up top there's a headphone jack covered by a rubber seal which will no doubt break off eventually, either through wear and tear, or through boredom - it's annoying how it protrudes from the top of the phone and we can see ourselves pulling it off in no time.
On the left side there's a micro-USB port for charging and syncing. Again, this is covered by a protruding plastic cover and while it may protect the port from dust and water, it's plain ugly in our eyes.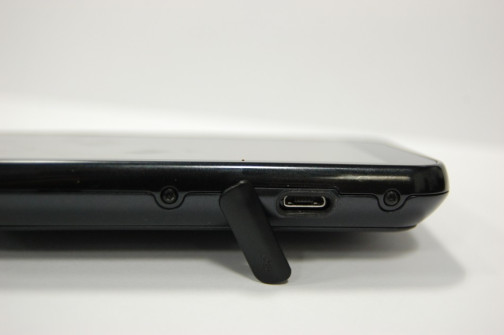 Ugly it may be, but the various stuck-out port covers do at least provide something to hold onto. The Defy+ - as its predecessor - is comfortable to hold and feels secure in the hand; it's also light and fits into just about any pocket with ease.
Finally, there's a five megapixel camera on the back with flash and a very obviously placed battery release switch. The switch isn't at all attractive but then we assume it's not meant to be; it looks sturdy and practical - which is of course the point of the Defy+.
Software
The Motorola Defy+ runs Android 2.3 Gingerbread with its 1GHz processor and 512MB of RAM and in testing we found that the phone is comfortably fast enough dealing with a whole host of apps and games. Angry Birds loaded quickly and played smoothly, while Facebook, Twitter and anything else we threw at it ran well.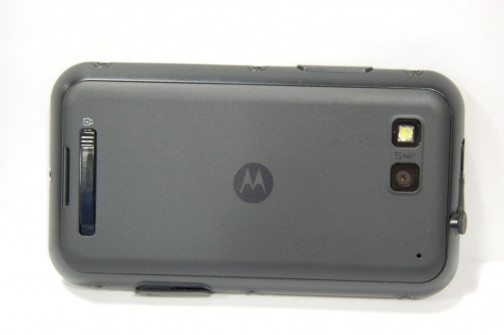 But our week with the Defy+ didn't go entirely smoothly. Twice, the phone rebooted for seemingly no reason while it was sat on our desk and we found the notifications system was inconsistent, with the vibrate function working for some alerts but not others. Also, the user interface occasionally froze, not through high workload - we assume - but rather when navigating through menus.
Another problem we came across was with the autolock feature. When set to lock after one minute it would sometimes lock instantly; once, after unlocked the Defy+ we were greeted with a completely frozen user interface, we had to remove the battery to reboot the phone.
Browsing with the Defy+ is quick and responsive thanks to HSDPA connectivity but in our testing we found that the phone occasionally got confused as it whether it had a 3G signal or not, resulting in no data at all. Quickly flicking Airplane Mode on then off fixed this problem, but it did crop up more than once.
We found the keyboard very responsive but occasionally frustrating due to its fairly small size and we were confused as to why the return key has been replaced with a smiley face.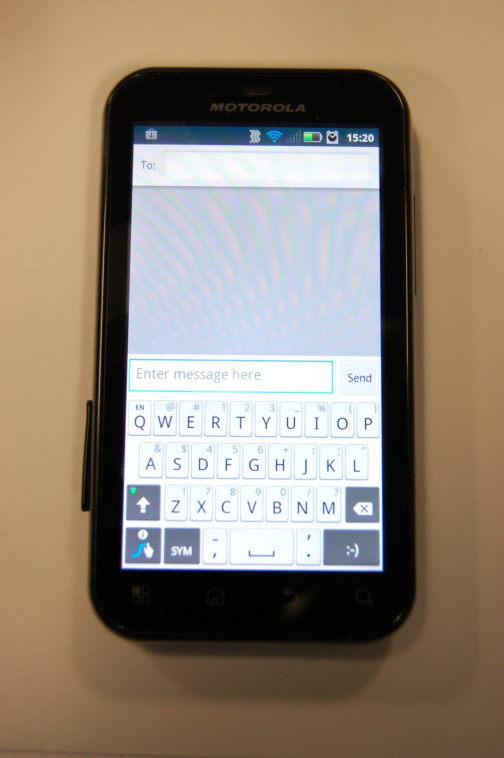 The five megapixel camera with flash is a decent offering, producing good quality photos but it does take an age to open. In reality it's probably just two or three seconds, but compared to the rest of the operating system it's noticeably laggy. In good, natural light the camera performs well and the autofocus does a great job at dealing with objects near and far. In low light, however, the camera struggles, as can be seen from the outdoor shot below.
There's a digital zoon which works well enough for snapshots, but don't rely on it to produce high quality photos when you're zoomed in to the max. As you can see from the photo of Julian Assange below, zooming adds a lot of noise and grain to the image.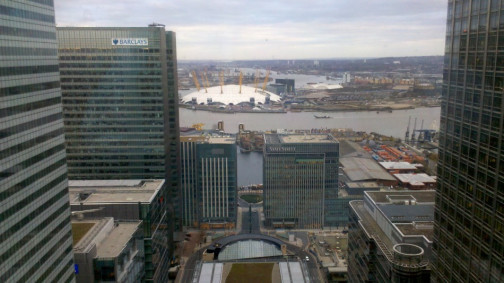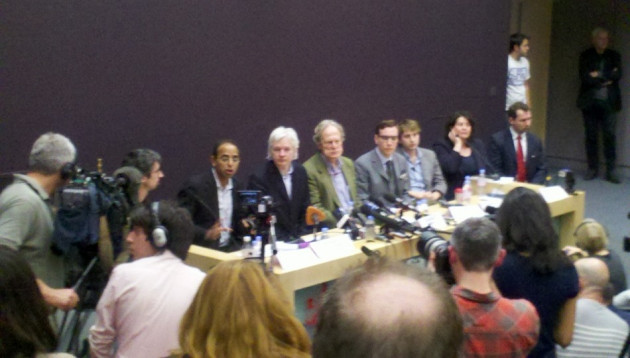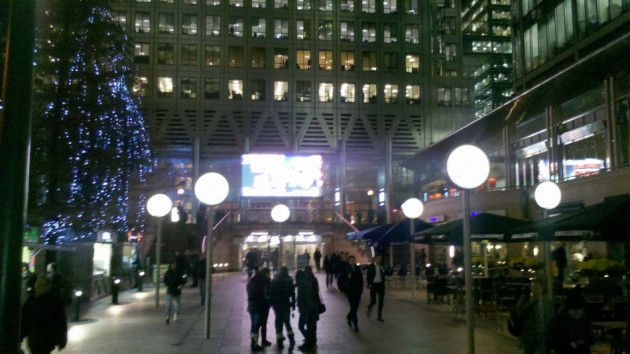 The Defy+ is priced at just over £200 SIM-free and for that price it's a decent package. Obviously, the selling point here is the phone's toughness and ability to shrug off drops and knocks that mind cause other smartphones to throw in the towel. As a result, the design isn't all that great but we're willing to forgive it for that, at least at this price point.
Conclusion
Software let the Defy+ down in our tests, which is a shame and maybe we're being a little harsh but rebooting for no good reason is not very high on our list of essential smartphone features. Overall, we found battery life to be impressive and with HSDPA and push email turned on you could probably squeak two full days out of it but really we all know that for today's smartphones getting through one busy day is a tough enough challenge.
There's only 1GB of internet storage on bored, but our review unit came with a 2GB micro SD card; of course larger cards can be bought and the Defy+ will handle up to 32GB of additional storage.
All in all, the Defy+ has the £200 tough smartphone market to itself and, for the most part, it does a good job by offering the features we all expect from a midrange smartphone in a package that will survive the occasional accident.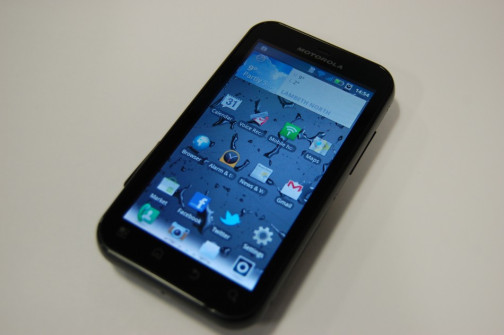 The good
Water resistant, sand resistant and tough.
Quick and responsive UI
Good screen for the price
The bad
Ugly design, port covers stick out
Software glitches such as randomly rebooting
Keyboard on the small side
Rating
3.5/5