The Samsung Galaxy Mini takes most of the features you'd expect from a smartphone - multitouch, fast 3G browsing, GPS and a range of apps and games - but presents them in a small, cheap package.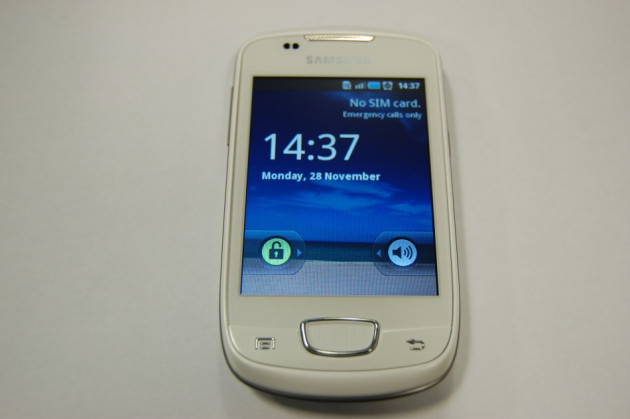 Priced at £109.96 SIM-free, the Galaxy Mini is definitely at the lower end of the smartphone foodchain and while it does pack some decent features, the phone is majorly let down by its screen. With a measly 240x320 resolution and measuring 3.1 inches across, the TFT display is disappointing and makes the phone feel cheaper than it should. Another negative is the outdated Android 2.2 'Froyo' operating system, but having said that, the phone will still appeal yo those looking for a cheap and cheerful smartphone.
Tech Specs
Despite the silver/grey band the Galaxy Mini is all plastic - no expensive glass or aluminium here - and that band houses the power/lock button and micro SD slot on the right, and a volume rocker on the left. Up top there's a headphone jack and micro USB port for charging and syncing. On the front there are three physical buttons and there's a 3-megapixel camera around the back - but no flash.
There's no getting away from the fact that the Galaxy Mini feels cheap; it's light and quite slippery to hold and our white (Chic White, if you must) review model started to look grubby after just a few days' use.
Powered by a single-core 600MHz processor, the Mini is never going to set your world on fire but, where credit is due, we never noticed any lag while using it with a wide range of apps. Maps, Facebook, Twitter, Angry Birds, messaging and the phone app all worked perfectly.
We found battery life to be very impressive, with official figures at over six hours of 3G talk time and more than 440 hours of 3G standby time. In our tests we found that the Galaxy Mini lived up to these claims and even with 3G on it lasted comfortably through two long days of use.
Unfortunately, the screen is a massive let down and something that simply can't be ignored and glossed over. The resolution, at 240x320 pixels, just isn't good enough in today's market and makes reading tweets and Facebook messages difficult. Added to this, the screen size makes typing difficult for even the smallest of fingers, and the autocorrect sometimes struggles to keep up.
Operating System
Using Android 2.2 Froyo is a disappointment as it's now two major updates behind the newest operating system; but remember that this is a fairly basic smartphone and potential users probably don't care - or indeed understand why - they must have the latest and greatest software. For just north of £100 we weren't expecting too much from this baby Galaxy, but what we did get was decent enough considering the price.
There is a surprising lack of 'bloatware' with the Galaxy Mini and, although dated, Froyo does just about everything you'd want from a model at this end of the smartphone spectrum.
The 3-megapixel camera is poor; with no autofocus it struggles with close up shots and everything else appears washed out and blurred. There's no flash and while video recording is an option, the quality is also poor and probably not worth using for anything more than grabbing a quick recording for Facebook.
Two photographs taken with the Galaxy Mini are below:
The good:
Excellent battery life
Looks good in black
Fast browsing and download speeds
Small and light
Does everything a £100 smartphone should do
The bad:
Awful screen resolution
Difficult to type accurately
Only comes with 1GB SD card
Overall: 2.5/5