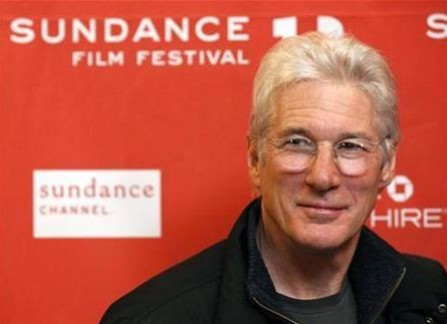 American actor Richard Gere has been accused of flirting with a married woman at a restaurant which led to a confrontation with her upset husband.
According to a report in the New York Post, the Pretty Women actor was dining at Nick and Toni's in East Hampton with his friends after being conferred a lifetime achievement award at the 20th annual Hamptons Film Festival in New York. The 63-year-old actor, who is married to model Carey Lowell, reportedly could not take his eyes off the blonde woman.
"He kept staring at this woman. Her husband seemed agitated by it," a source claimed. "He approached the other table. He didn't acknowledge anyone around her. He was leaning in and trying to talk to her, leaning into her ear."
The woman was apparently confused about what was happening and she is believed to have let her spouse handle the situation. Gere then left the place, with the woman's husband also stepping outside to ensure that he was not seen anywhere around.
The actor's spokesperson claimed that the incident has been exaggerated.
"Reality is, he was at a table with his agents and their wives. On his way out, he stopped to say hi to the people at that table, and joked with the people briefly before leaving," his representative told the New York Post.
Gere was handed his Golden Starfish Award for Lifetime Achievement in Acting by the festival's honorary chairman and previous recipient of the prize, Alec Baldwin. He also interviewed Gere and talked about his life and career.
Gere revealed he was initially unhappy with the ending of his 1982 movie An Officer and a Gentleman, for which he was nominated for the Golden Globe Award for Best Actor. In the film, he plays Zachary Zack Mayo who develops a romantic relationship with Paula Pokrifki (Debra Winger), a local factory worker. In the climax scene, he picks her up at the factory where she works and carries her out in his arms, to the applause of her colleagues.
"I felt it was too sentimental. I never believed in the ending. It's too romantic, it's never gonna work...," he told Baldwin. "I remember shooting the scene in the factory, I kept saying (to director Taylor Hackford), 'Come on, let's do something else, we've got time.' He said, 'Look, we're here, let's just do it.' Watching it later, with the music in, the hairs on the back of (my) neck stood up."