Former Top Gear presenter Richard Hammond has apologised to his family after dodging death for a second time following a 'serious' car crash in Switzerland on Saturday (10 June).
The Grand Tour host, 47, lost control of a Rimac Concept One — a £2 million ($2.5m) electric super car — while completing the Hemburg Hill Climb, filmed for the second series of the Amazon Prime show.
Hammond survived the crash, which saw the vehicle veer off the road and flip multiple times down a hillside, by managing to free himself from the wreckage seconds before it caught fire and exploded.
Miraculously, the presenter was found "conscious and talking" by producers a few metres away from the explosion, despite fracturing his knee.
Addressing the injuries in a video to fans from his bed at St Gallen hospital in Switzerland on Sunday (11 June), Hammond assured fans "I am alive".
"Yes, it's true - I binned it. Again. I'm here, in a hopsital in Switzerland, this is my knee, that they're going to turn from this into this,' he said in the video as he showed off X-Rays of his knee.
"They're giving me a Swiss Army knee hopefully later today," he added.
"I'd like to thank all of the medical professionals who got me by air ambulance from the crash to this hospital and dealt with me every since."
He then went on to apologise to his family — including wife Amanda Etheridge and daughters Willow and Isabella, having previously been involved in a similar life-threatening incident while filming BBC's Top Gear in 2006.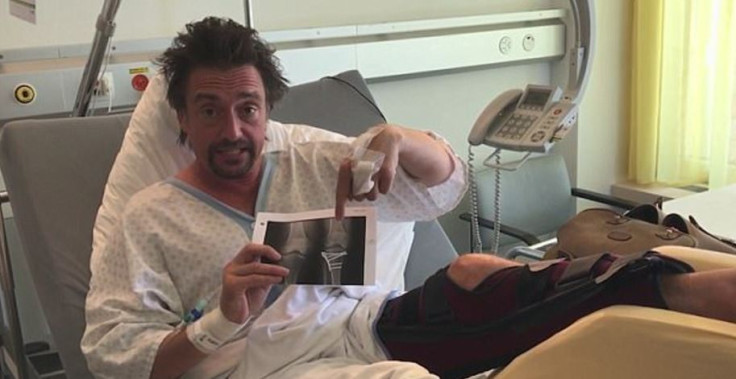 "Most importantly, sorry to my wife, Mindy, and my daughters, Izzy and Willow. I'm sorry for being such a colossal idiot," he added.
The clip, filmed by fellow host James May while he visited Hammond and uploaded onto Drivetribe, also saw the embattled car express gratitude for a bottle of gin smuggled in by the 54-year-old.
Co-hosts "staggered" Hammond survived as father urges restraint
May and and fellow colleague Jeremy Clarkson were "staggered" he survived because there was "nothing left" of the vehicle.
Speaking to the Sunday Mirror, Grand Tour executive producer Andy Wilman said: "Jeremy and James both raced down to the scene of the crash as soon as it happened. When they saw the wreckage on fire they thought Richard was dead. It was really bad.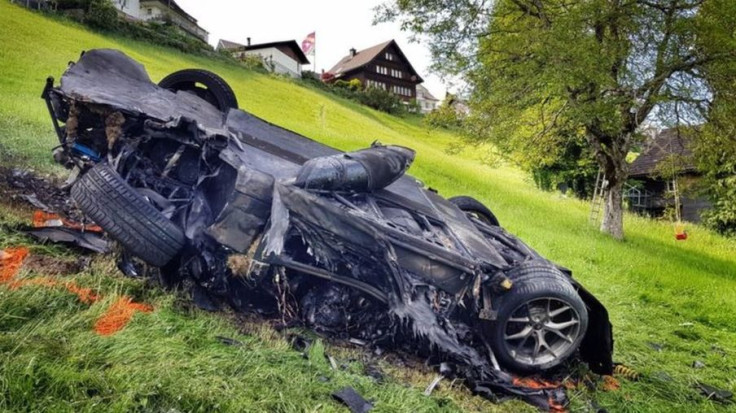 "They were staggered he had got out of it alive, because there was just nothing left. Everyone is so relieved. If Richard had been a few seconds slower getting out, he would have been incinerated."
The accident comes weeks after Hammond's father urged him to stop the dangerous stunts and focus on his safety.
His previous crash saw his helmet embed itself into the ground with the visor open, forcing soil into his mouth and damaging his left eye.
Hammond had been attempting to break the British land speed record.
Although lucky to escape with his life, the father-of-two, who has been married to Etheridge for 15 years, suffered brain injuries and later reported loss of memory, depression, plus, difficulties with emotional experiences.
"For years I thought of it especially," he said in an interview with Radio Times.
"It was a lot to deal with. I had a pretty tricky few years. The knock-on effects of the injury meant I was susceptible to depression, obsession, compulsion and paranoia, although I wasn't aware of that at the time. It gave me an unnatural platform from which to observe my own mental state, which was exhausting."