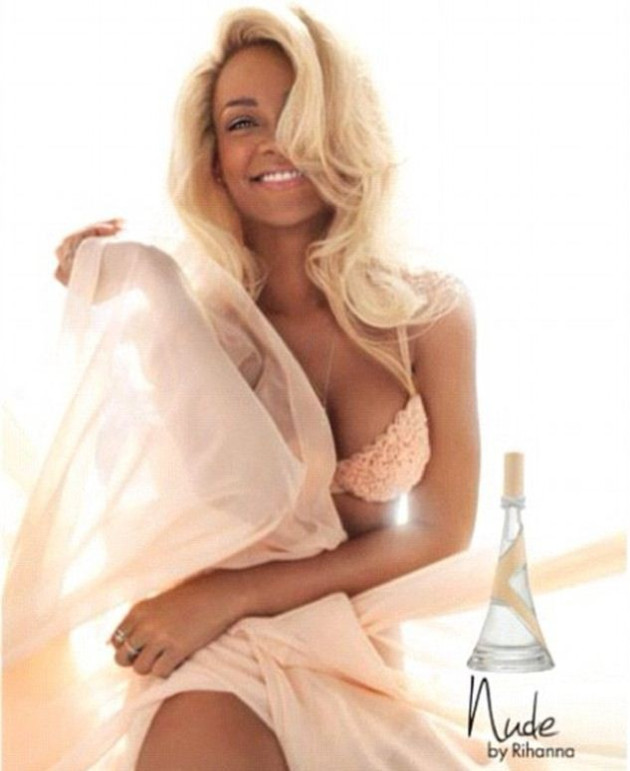 Singer Rihanna posted topless photographs of herself as a teaser for an advertising campaign behind the launch of her new fragrance - Nude - in May. Now, the 24-year-old Caribbean singer has revealed photographs of the new ad to her 20+ million Twitter followers. In the shot, Rihanna is seen in the blonde hairstyle she once favoured, wearing an off-white lace lingerie outfit and with a piece of gauze fabric draped around her body.
The photographs come with the following post: "Here is my new ad for a brand new fragrance #NUDE !!! Make sure you smell sexy, especially naked, this fall."
When a fan asked the singer what the fragrance smelt like, she responded: "like me... it means u don't need to wear anything else".
Rihanna has rarely shied away from posing semi-nude or topless but it appears she will draw the line at posing for a magazine, explaining her mother would "kill" her and that she was "raised with certain standards".
However, revealing clothes are something she is not at all uncomfortable with.
"The more I got naked, the more comfortable I felt. I just have to face my fear. You always find something wrong; you always find something you're uncomfortable with. One thing turns into another and you get embarrassed and self-conscious about it - you feel like everybody can see what you see," she explained.
Nude is set for a November release and follows two previous fragrances - Rebelle and Reb'l Fleur.
Meanwhile, there are also growing reports suggesting Rihanna and former boyfriend Chris Brown may be together again. The singer has been criticsed for remaining in touch with Brown after he physically assaulted her a few years ago, but has now received support from her father, Ronald Fenty.
"I know they love each other. They always have," he told In Touch, "She's happiest when she's around him, and as long as she's happy, I am happy and the whole world should be too.
"I think everyone makes mistakes and they shouldn't be held to them forever. Everyone should be forgiven once. There's a lot more to Chris than the whole world knows," he added.