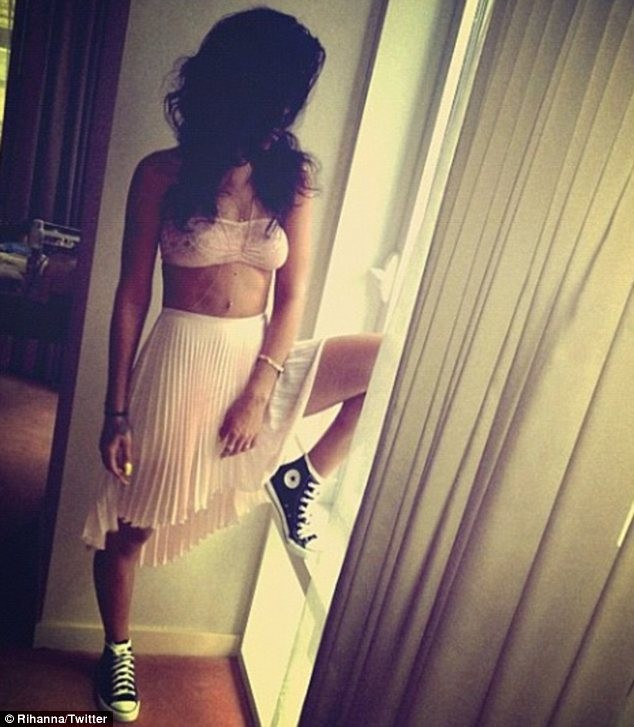 Singer Rihanna is always in the news, for the right and wrong reasons. One of the best singers in the world, she has her way of enticing the audience. But the star has recently been the topic of discussion owing to her unconventional dressing styles and wild partying behaviour. Is Rihanna falling prey to some psychological disorder? What symptoms are being shown by the singer? What kind of help would do good to her?
Rihanna was spotted wearing a sheer, lace bralet as a top in New York, which is usually used as an undergarment. The Popular Critic comments that the undergarment piece was astounding revealing a very-bare midriff and aureola paired with a sheer, pleated skirt, but the 24-year-old looking exhausted and unhealthy while out on the streets of the Big Apple was most bothersome. During an outing to the Ristorante di Giorgio Baldi restaurant, Rihanna wore a crocheted skirt which was very revealing with a lace bandeau top and brown strappy sandals.The skirt gave the impression that she was not wearing any underwear as there was no visible panty line. The singer has been wearing revealing dresses way too many times recently. What does this suggest? The tendency to reveal more to get admiration can be viewed as a possible symptom of a psychological disorder called the Narcissistic Personality Disorder.
The singer has been constantly tweeting her pictures as well. According to the US National Library of Medicine, narcissistic personality disorder is a condition in which people have an inflated sense of self-importance and an extreme preoccupation with themselves. A strong trait of the NPD is becoming preoccupied with fantasies of success, power, beauty, intelligence, or ideal love. Rihanna shows this not just through revealing clothes but also by switching back and forth between size zero and curvy body.
"I'm a size zero and not happy about it! I went way too far. I prefer myself a bit chunkier. I want my old butt back," contactmusic.com had quoted Rihanna as saying.
Relationship psychologist Jo Hemmings opines that Rihanna could recognise the damage she is doing to herself through counselling. Talk therapy is one of the suggested methods for patients suffering from NPD.
Another factor that needs to be taken into account is that Rihanna is seen constantly trying to keep in touch with her ex-boyfriend Chris Brown who used to abuse her. In spite of facing the abuse, it could be the singer's insecurity that is tempting her to get back with Brown. During one of her erratic moments, before her UK tour, Rihanna had gone missing during the last moment. Manager and mentor, Jay Z had gone crazy seeing Rihanna's irrational behaviour and urged to seek help. When Rihanna went missing, the crew started searching for her. It justifies "a constant need for attention and admiration" that is seen in NPD patients.
"She's reached breaking point. Ri says she's physically and mentally exhausted and feeling lost. I think she desperately needs help and some time off, not just from work but from all the other stresses of her life, too," a friend told the Daily Star.
So what can be possibly done to help Rihanna? One possible treatment seems to be Dialectical Behaviour Therapy (DBT). It includes treatment components such as prioritising a hierarchy of target behaviours, telephone coaching, group skills training, behavioural skill training, contingency management, cognitive modification, exposure to emotional cues, reflection, empathy and acceptance. Yet another treatment could be psychoanalytic orientated day hospital therapy that uses prescribed medicines to increase social improvement and social adjustment.