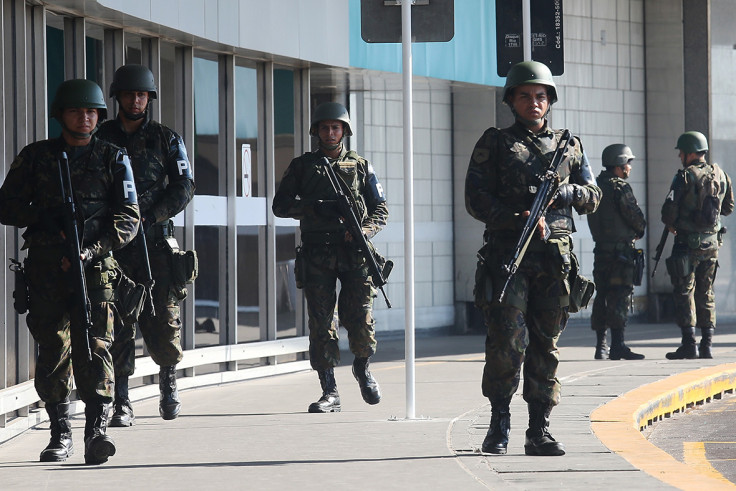 With the opening ceremony for the 2016 Olympic Games in Rio deJaneiro just five days away, on 5 August, 2,500 security screening roles have not yet been filled. Brazil's Justice Minister AlexandreMoraes confirmed that former soldiers and police are now being drafted in to fill the posts.
The problem arose because Artel, the company awarded the contract to oversee security despite having no previous experience of handling large-scale events, said it did not have time to train enough new recruits. Artel has now had its contract terminated.
Altogether 85,000 soldiers and police will be on duty throughout the Games to protect participants and spectators from crime. Brazil has one of the highest murder rates on Earth, with 1,715 homicides in the first six months of 2016 alone. Several athletes have been robbed at gunpoint while out training, including
Several athletes have been robbed at gunpoint while out training, including Paralympian sailor Liesl Tesch. Crime has been rising in recent months as a result of rising unemployment and a shortfall in public spending on security.
Bodies have been found floating in water to be used for wind-surfing and sailing, and swimmers have been advised to keep their mouths closed when swimming off Copacabana Beach because the area is awash with human effluent, the Express reports. Several athletes have also pulled out because of fears over the Zika virus, including tennis star Milos Raonic.
However, the biggest concern for Brazilian security chiefs is the threat of terrorism. Islamic State (Isis) have called for "lone wolf" attacks on the games – in particular, on athletes representing the US, UK, France and Israel. Twelve members of a local Islamist group who swore allegiance to Isis were arrested last week, though Moraes said they appeared to be somewhat amateurish.
"They were complete amateurs and ill-prepared to actually launch an attack," said Moraes. "A few days ago they said they should start practising martial arts, for example."