The mother of a Muslim US Army captain, killed in the line of duty, has dismissed Donald Trump's claim that he has sacrificed during his life, while her husband called on Republican leaders to reign Trump in. The comments came after the Republican presidential candidate insulted the family in a series of television interviews with US news networks.
Earlier in the week, Khizr Khan gave a now iconic speech at the Democratic National Convention (DNC), in which he directly asked Trump whether he had read the US Constitution. He attacked Trump for "consistently smearing the character of Muslims".
In previous speeches, Trump has suggested that US-born Muslims support terrorism and claimed that Muslims would be barred from entering the US, should he be appointed president.
Khan, an American citizen of Pakistani origin, also spoke of his deceased son – US Army Captain Humayun Khan – who was killed in a car bomb attack in Iraq in 2004, aged 27. He asked Trump, "Have you ever been to Arlington cemetery? Go look at the graves of the brave patriots who died defending America – you will see all faiths, genders and ethnicities. You have sacrificed nothing and no one."
During his speech Ghazala Khan, Captain Khan's mother, stood silently by her husband's side.
Trump attacks
Two days later, on Saturday, 30 July, in an interview with ABC News' George Stephanopoulos, Trump attacked the Khan family.
Defending himself, Trump said, "I've created thousands and thousands of jobs, tens of thousands of jobs, built great structures. I've had tremendous success. I think I've done a lot," going on to say, "I think I've made a lot of sacrifices. I work very, very hard."
Then the property magnate turned politician accused Khan of lying when he said he wrote his own speech. Referring to Khan's powerful speech, Trump asked, "Who wrote that? Did Hillary's script writers write it?"
Khan – a Harvard-educated lawyer – said that he penned his speech himself. He delivered it without the use of a teleprompter.
Trump went on to say that Mrs Khan had not spoken because she was not allowed to speak in public, implying it was because she is Muslim.
"If you look at his wife, she was standing there," Trump said. "She had nothing to say. She probably, maybe she wasn't allowed to have anything to say. You tell me."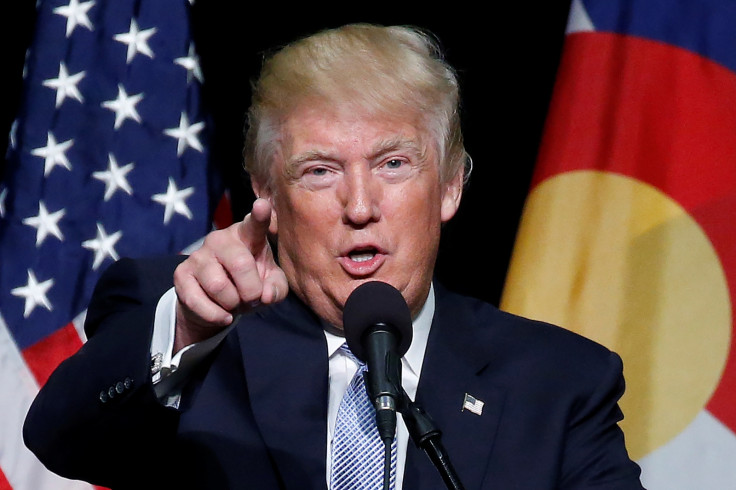 Silenced by grief
During an interview with MSNBC, Mrs Khan said that she had not spoken along with her husband, because she had been overwhelmed by grief.
"I cannot see my son's picture – I cannot even come in the room where his pictures are," said Mrs Khan. "So when I saw the picture on my back," a large portrait of Captain Khan was projected on a screen behind her during the speech, "I couldn't take it, and I controlled myself at that time. So it is very hard."
Mrs Khan dismissed Trump's claim that he knew 'sacrifice'. "I don't think he [Trump] knows the meaning of sacrifice, the meaning of the word," she said. "Because when I was standing there, all America felt my pain. Without saying a single word. Everybody felt that pain."
During the interview, Khan thanked his wife for her support. "I am much weaker than she is in such matters," he said. "Forty years of marriage [have] brought us in a position where we are a strength for one another, so her being there was the strength so that I could hold my composure."
Father and Clinton rebukes Republicans
During the interview, Khan said that he had not given the whole of his planned speech. He also wanted to address senior Republican figures Paul Ryan, the Speaker of the House, and Mitch McConnell, the Senate Majority Leader, to reign Trump in.
"We have quietly watched his speeches, his bullying – schoolyard bullying – and we have sat, some intelligent people like yourself and others have commented and nothing has made a difference," said Khan. "Isn't this the time to repudiate Trump? What he has said, what he has threatened to do. This is a moral imperative for both leaders to say to him, 'Enough!'"
The Clinton campaign has also criticised Trump's attack on the Khan family.
Hillary Clinton said: "He attacked the distinguished father of a soldier who had sacrificed himself for his unit, Captain Khan."
Karen Finney, a senior spokesperson for Hillary Clinton's campaign, issued a harsher rebuke to the Republican's candidate.