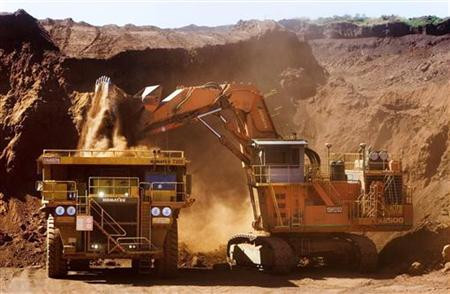 Shares in Rio Tinto were up in afternoon trading on the FTSE 100 after the mining giant more than doubled its earnings and cut its net debt in the first half of the year.
The group said that underlying earnings were up 125 per cent in the period to $5.8 billion, while net debt had fallen in the six month period from $18.9 billion to $12 billion.
Cash flow from operations was reported as being up 78 per cent in the first half to $9.9 billion.
Rio Tinto said that it had approved three billion dollars so far this year for projects such as the expansion of some of its facilities.
In addition $170 million has been approved for investment into a joint venture with Chalco for the development of the Simandou iron ore project in Guinea, due to start production in the next five years.
In the full year investment and capital expenditure is expected to be around six billion dollars, before rising to nine billion dollars in 2011.
In the first half Rio Tinto said it had made $3.6 billion dollars from divestments.
The company said it would be paying a dividend of 45 cents per share.
By 14:25 shares in Rio Tinto were up 1.00 per cent on the FTSE 100 to 3446.00 pence per share.