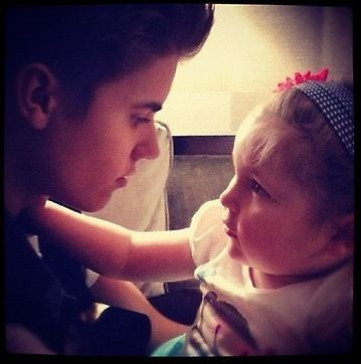 News of her death was confirmed by her parents, who tweeted: "Our darling Avalanna went to Heaven this morning. Oh Avalanna, the brightest star - you took our hearts with you, our greatest Love." Routh was diagnosed with AT/RT (Atypical Teratoid Rhabdoid Tumor) when she was nine months old; the condition has no known cure.
The little girl shot to fame after Bieber heard of hospital workers organising a "wedding" to the singer, complete with bridesmaids, cake, a cardboard cut-out of the pop star and a shirt with the words: Future Mrs. Bieber. There was also a Facebook page - Get Avalanna to Meet Justin Bieber - and a Twitter account - TeamAvalanna. Bieber finally met Routh for a special Valentine's Day Date.
The Canadian singer later tweeted: "That was one of the best things I have ever done. she was AWESOME. Feeling really inspired right now! #MrsBieber." The 18 year old singer often tweeted pictures with her and they even did an interview on The Today Show in June.
When he learnt of her death, Bieber wrote: "just got the worst news ever. one of the greatest spirits i have ever known is gone. please pray for her family and for her. RIP Avalanna. i love you. please show respect to her and her family. say a prayer for her and for them. i miss her."
Predictably, RIP Avalanna has been trending on Twitter for some time now.
The Fight Against Cancer organisation tweeted: "RIP Avalanna. "The world lost a fighter, but heaven gained an Angel."
@psandhu94: "Just yesterday it felt like "Pray For Avalanna" was trending and today "RIP Avalanna" is trending....we miss you so much Ava:'("
@AlfredoFlores: "God must have wanted his little angel before we were ready to let her go. RIP Avalanna. Love you so much."
@iBiebersSwaag : "The parents lost a daughter, Justin lost his girl and 28 million Beliebers lost a sister. RIP Avalanna. - THIS!! "