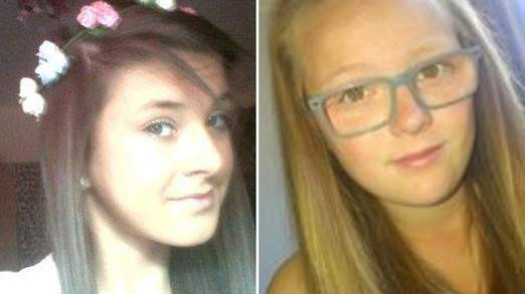 Two teenage girls whose bodies were found by divers in the River Wear have been named by police.
Chloe Fowler, 14, from Shiney Row, and Toni-Beth Purvis, 15, from Barmston, drowned after being spotted getting into difficulty near a viaduct in Washington, Tyne and Wear.
It is reported the girls jumped 30ft from a viaduct into the water on 23 July.
Members of the public, including an off-duty policeman, attempted to save the girls from the river before around 100 emergency service personnel joined in the rescue attempt.
The teenagers' bodies were eventually pulled from the river by a police dive team later in the evening.
Northumbria Police said inquiries will now be carried out into the circumstances surrounding the deaths.
Supt Alan Veitch, Sunderland Area Command, said: "This is an absolute tragedy and our deepest sympathies are with the families of the two girls at what must be a devastating time for them.
"They are obviously completely distraught at what has happened and we're doing everything possible to support them at this time.
"We are aware there has been some speculation about what has happened but I'd like to emphasise that we are speaking with witnesses to establish exactly what has happened and it's still too early to determine the circumstances.
"At this stage we believe a group of friends had been at the riverside and two went into the water and the others tried to help, along with members of the public."
Friends of the girls expressed shock at their deaths on social media.
One friend, @Michael--Hall96, wrote on Twitter: "I'll never step foot in that river again, not taking life for granted anymore!! RIP toni purvis and chloe fowler."
@shannon97xxxxxx wrote: "cant get over whats happened, rip toni beth and chloe fowlerx."
@laurenlsmithx, said: "Rest in peace Toni-Beth Purvis and Chloe Fowler, rest in peace angels, you will both be such a big miss."
Veitch added: "This was very difficult for everyone involved and I'd like to thank those who helped in the search, including all emergency services, and all those people who volunteered their services from across the country.
"We're working to get appropriate support for witnesses, in particular the young people who were with the girls and saw what happened. This has been traumatic for them and we're keen they are able to access support services."