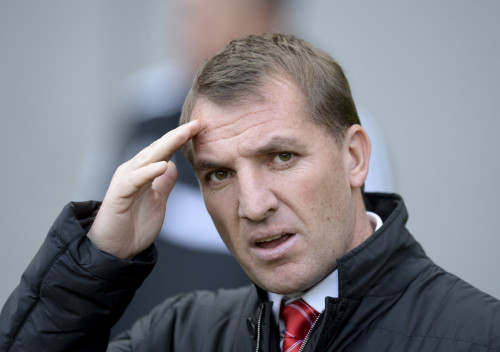 Liverpool manager Brendan Rodgers has indicated there is nothing immediately in the works in terms of incoming transfers at the club but will not stockpile players for the sake of it.
Liverpool were dealt a blow last week when it emerged Chelsea had clinched a deal to sign FC Basel winger Mohamed Salah. The Reds' were widely recognised as favourites to sign the Egyptian international having opened talks at the end of December, but have been trumped by their Premier League rivals.
Rodgers indicated in an interview with talkSPORT last week that the club were still working hard to bring new faces to the club before Friday's transfer deadline, but told reporters "there is nothing imminent" ahead of Tuesday's Merseyside derby with Everton.
"We have to wait and see on that. There's certainly nothing imminent. But we always felt if we could do [business] then it was something we wanted to do," Rodgers told a press conference, the club's official website reports.
"I said all along this was a group that we needed that wee bit of luck with to keep clear of injury and unfortunately we've been hit by a bad run of injuries.
"I'm just reluctant to bring in anyone that is just going to stockpile players. We need to bring in players that are really going to affect the starting XI. And if we can't do that, then we won't be doing anything.
"The club is working hard on that to find the players; it's just a very difficult market to find the player and do a deal and to get it over the line. We won't stop until the very end and hopefully we can."
He added: "I think we've shown up until this point that with the squad that we have, if we can add to it in this period then it would put us in a great position. We've shown over the course of the season that we're a team that's up there on merit.
"If we're unfortunate enough to be hit by injuries and then there's not the market there to bring in the players that's going to help us, then that's unfortunate.
"What I do know is that we've got a group here that is fighting and if no-one comes in, that will galvanise us even more and we'll really focus in on the players that we have."
Liverpool welcome arch rivals Everton to Anfield on Tuesday evening with just a single point separating the two clubs who are both desperately chasing a Champions League spot.
The pulsating 3-3 draw between the two clubs at Goodison Park earlier this season has this week's encounter more fervently anticipated than ever, but the Liverpool boss is still faced with some selection headaches.
"Nothing has changed from the weekend really," Rodgers added. "We've still got a wee bit of time to decide that and he was on the training field today.
"It is just a case of assessing Joe on whether this game is going to push him too much and whether he's fully fit.
"What we don't want is another injury. Maybe if we had a raft of players, we could put him in and if he came out of the team we'd have someone else to put in.
"At this moment in time, we don't have that, so we have to think not only about tomorrow night, but the coming weeks because we've got some very important games.
"Sakho won't be available. He's still two to three weeks away yet with his injury."