Rolls-Royce Wraith 2015 review: Blending luxury with performance, this is the ultimate grand tourer
Saying 'shall we take the Rolls?' never, ever gets old
An hour's drive south of my London flat, I find myself weaving and winding through country lanes; the bright light of an autumnal afternoon showing off the changing shades of the overhanging trees. Every time I drive through shadows, the Rolls-Royce Wraith's Starlight Headliner catches my eye, each of the 1,000 LED lights illuminating the cabin as if I'm beneath a star-filled sky. But as an oncoming truck acutely reminds me of the Wraith's 6ft, 5in width, I turn off the roads meandering past its Goodwood birthplace and go in search of something wider.
The Rolls-Royce Wraith 2015 – any Rolls-Royce, it's probably fair to say – is not a car to enjoy on twisting country lanes. Even if this is considered the small one, it is absolutely vast. A great big barge of a car with a bonnet so long you only know vaguely where the front is because of the Spirit of Ecstasy ornament perched above the radiator. Famously sitting atop all Rollers, here she stands at a lower, more aggressive angle – a clue as to why the Wraith is a car for driving, not one to be driven in.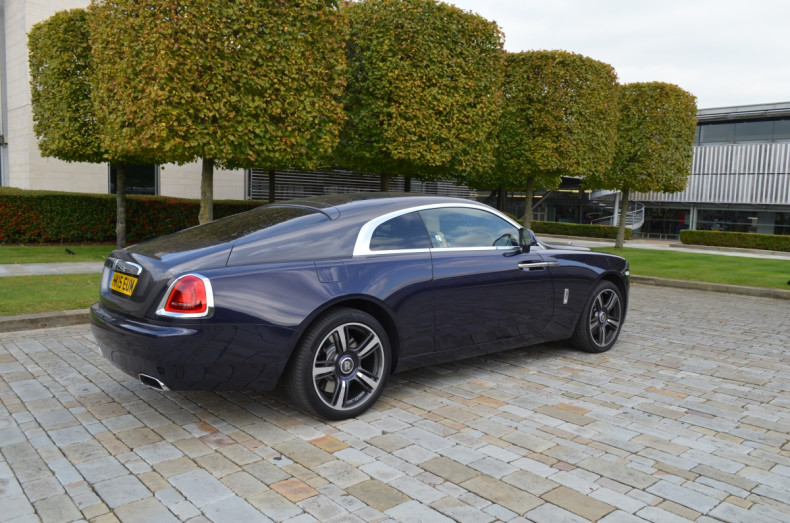 This is the fastest, most powerful Rolls-Royce ever. It has a 6.6-litre. twin-turbocharged V12 engine producing 624 horsepower and dragging the 2.4-tonne Wraith to 60mph in 4.4 seconds. That's the same power as a Tesla Model S P85D and the same 0-60 as the BMW i8; it's enough to make you believe the big Roller is somehow defying physics.
Exploring the Wraith's split personality is where you will find it shining most brightly; as much as it surges forward when you sink your foot into the thick lambswool carpet – and it sounds wonderful on full throttle – the Wraith is just as happy when driven sedately. Leaving the chocolate-box scenery of Sussex behind, I head for the M40 and Manchester. The setting sun causes the cabin to be bathed in light from the Starlight roof – a £9,000 upgrade, since you have probably asked, and more if you want Rolls-Royce to create your favourite constellation with the LEDs.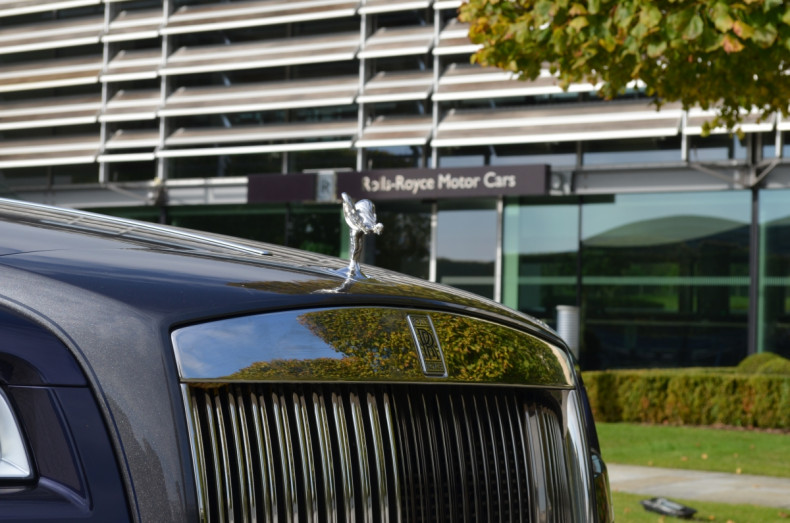 Everywhere you look in the Wraith's cabin you will see the final word in luxury motoring. The leather is buttery soft, the wool floormats deep enough to sink your feet into, the armrest perfectly positioned and the steering almost impossibly light in town, before weighing up nicely at speed. It may have enough power to embarrass almost anything else on the road, but traffic light Grand Prixs are not primarily what the Wraith was built for.
This is a GT car, a grand tourer, if ever there was one. A car for wafting up and down whole countries at a time, hoovering up motorways in near silence and asking for only occasional prods of the loud pedal.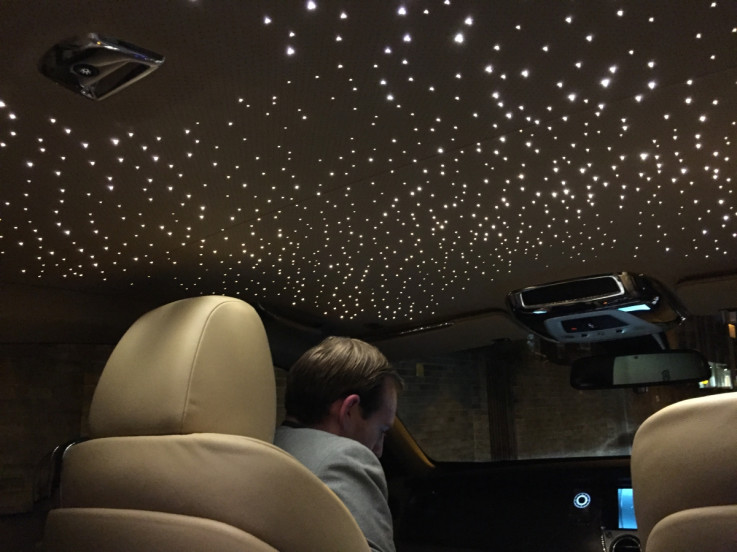 A £9,000 option, the Starlight Headliner resembles a starry night sky
IBTimes UK
The Wraith does this exceptionally well. The lack of cabin noise at motorway speeds is almost eerie, and driving carefully around town causes little more than a whisper from that monstrous V12; I could have sworn it was electric the first time I set off, silently steering the Rolls between parked cars like a battleship down a canal.
Technology, Rolls-Royce style
But what about the technology? Where for Tesla and BMW's i range, tech is at the very forefront of everything they stand for, the Wraith employs technology that acts more like a butler, doing its best to equally help you and keep out of your way. The most interesting tech comes from the eight-speed automatic gearbox, which uses the car's GPS to know what corners are coming next, and therefore which gear would be best. The result is hard to spot, since gear changes are barely noticeable, but this is exactly the point.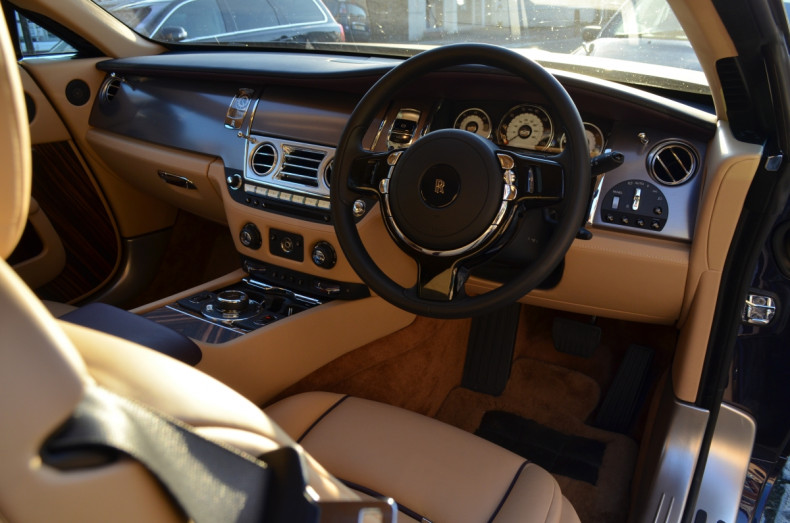 The Wraith's infotainment system is a very close relation of parent-company BMW's excellent iDrive, with large screen, control dial and head-up display for showing your speed, sat-nav instructions, and warnings of unsighted pedestrians spotted by the night vision camera.
There is plenty of other tech here, but it's more a case of "If Rolls-Royce did technology...". There are umbrellas concealed in the front wheel arches, ready to deploy if it's raining when you arrive at the races.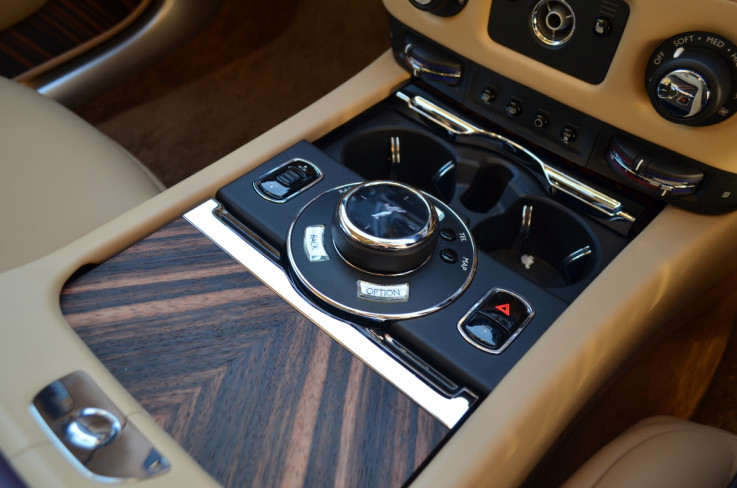 Smothered in Rolls luxury, the infotainment system is closely related to BMW iDrive
IBTimes UK
The doors open backwards and, because they're rather heavy and it's a bit of a stretch, there is a button to close them electrically. Other RR-spec tech includes wheel centres, which always stay the right way up, so they're all nice and neat when you park, and a "Power Reserve" dial instead of a rev counter.
A single cause for complaint is the sat-nav's lack of knowing how wide the Wraith is. It draws from the same BMW database used by my Mini, so often directed the Rolls down tiny roads when slightly longer but much wider routes were ignored.
Rolls-Royce Wraith
(9/10)
Pros
Ultimate luxury and comfort; there is no better place to travel cross-country
Sports car fast when it needs to be
Huge options list and bespoke tailoring makes every Wraith truly unique
Cons
Struggles to get more than 20 miles per gallon
Sat-nav doesn't know how wide the car is, so will take you down very narrow roads
Out of reach for 99.9% of us
The Verdict
Spending £320,000 on a car – as this option-packed Wraith costs after tax – is a ludicrous idea for 99% of us. But, like the £8,500 Vertu phone I used earlier in 2015, there is clearly a market for extreme luxury. Yes, a much cheaper Bentley, Aston Martin or Mercedes probably feels similar to drive and ride in, but the Rolls-Royce name alone carries this car into a different league. The Wraith might not be a better car than some of its cheaper rivals, but owning and driving one is a better experience – and besides, asking "shall we take the Rolls?" never, ever gets old.