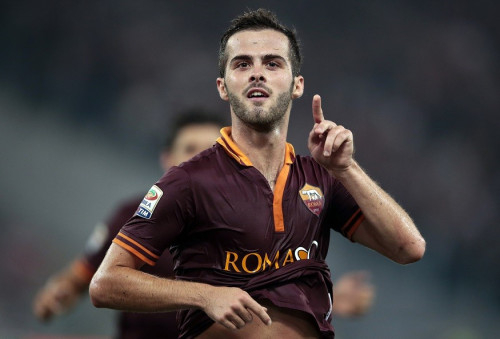 Roma midfielder Miralem Pjanic has revealed his is "flattered" by Manchester United's reported interest in his services.
The Premier League champions have had little luck in adding to their midfield over the past six months, with their options as wafer-thin as ever despite the summer acquisition of Marouane Fellaini.
Perhaps most worryingly for David Moyes and the club, a number of their targets have shown little desire to discuss a move to Old Trafford. Cesc Fabregas, Ander Herrera and Koke have all indicated they have little intention of joining the club, much to the frustration of the manager.
But although a move this month seems unlikely, Roma's Pjanic has given United some encouragement amid the club's reported interest in the 23-year-old after indicating he would be open to a move to Manchester.
"It is flattering and I am sure glad to hear that," Pjanic was quoted as saying by the Manchester Evening News when asked of United's interest.
"I have become a supporter of Roma and should there be a transfer it will require that the three parties agree."
After Sunday's defeat to Chelsea United now lie 14 points off the top of the Premier League. But despite their desperate need of improvement Moyes has played down the possibility of the club making significant additions to the squad this month.
"We know the type of players we want to bring in the club," Moyes said. "A lot are not available, if we can get them we will try to do that but it is difficult.
"The club has always said it is long term here. We have an idea of the players we like to bring in. We would like them now obviously, but it is more than likely it won't be."
United have also lost another midfield option in the form of Anderson, who has joined Serie A club Fiorentina on loan until the end of the season having started just two league games for the club under Moyes.