As the Vatican reopened the Catacombs of Priscilla after years of restoration, the frescoes in the second century catacombs featuring images of women have retriggered a debate on women priests in early Christian church.
The ancient cemetery complex, situated at the Via Salaria, features frescoes showing biblical scenes of both Old and New Testaments and images of women which women groups say depict the priestess.
In one room of the catacomb, a painting shows a young woman wearing a "rich liturgical dress" and a veil on her head, with her arms raised in an attitude of prayer.
The Association of Roman Catholic Woman Priests (ARCWP) says that the painting is a direct indication that there have always been women priests in early Christianity, opposed to the notion of the Roman Catholic Church, which doesn't accept women priests.
The association depicts the left and the right side of the painting as the scenes of a woman being ordained a priest by a bishop seated in a chair.
"She is vested in an alb, chasuble, and amice, and holding a gospel scroll. The woman on the right end of this fresco is wearing the same robe as the bishop on the left and is sitting in the same type of chair. These attributes indicate that she is thought of as a bishop," Roman Catholic archaeologist and theologian, Dorothy Irvin explained in an article.
The official website of the catacombs doesn't describe the scenes and call them "probable episodes" of the woman's life.
But the Vatican call these interpretations of the fresco "sensational" and "unreliable".
"This is a fairy tale, a legend," Professor Fabrizio Bisconti, superintendent of religious heritage archaeological sites owned by the Vatican, told Reuters, saying that the woman in the fresco was "a depiction of a deceased person now in paradise," and that the right and left scenes showed women taking part in a "funeral banquet."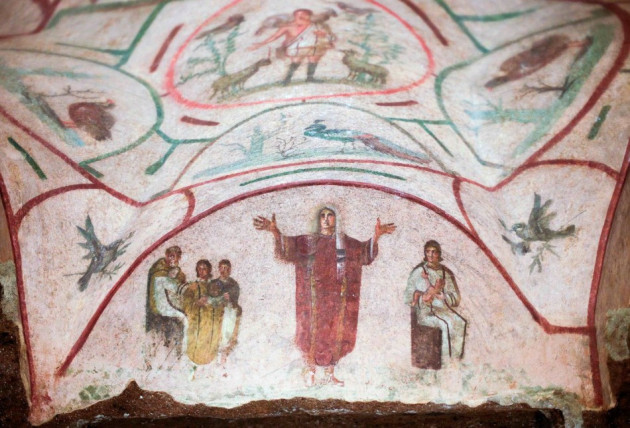 Catacombs were used as underground burial places under Rome from second to the fifth centuries AD. These were discovered in the 16th century.
There are five major catacombs in Rome that are open to visitors. These include the catacombs of St Sebastian, St Callixtus, St Agnes, Domitilla and those of the Priscilla.
The Catacomb of Priscilla stretching underground for 13km over various levels of depth was opened to visitors after a five-year restoration work on 19 November.
Known for having arguably the oldest image (dating to about 230 AD) of the Madonna and Child, the Catacomb of Priscilla will also be viewable in a dedicated section of Google Maps.