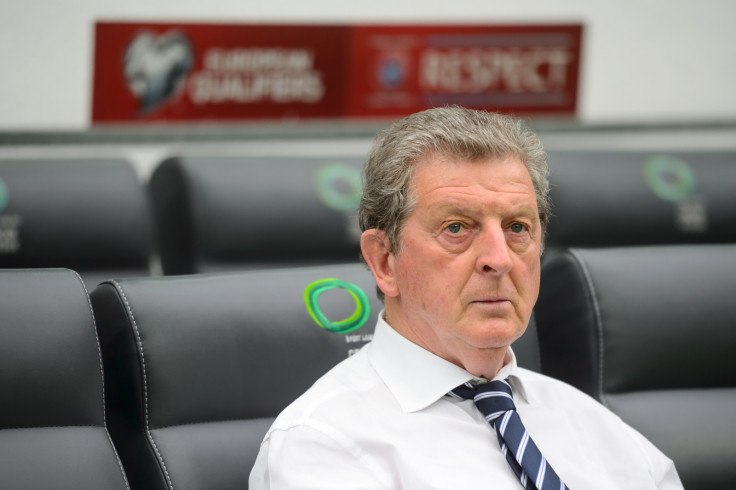 Roy Hodgson claims he would be "delighted" to lead England in their campaign to reach the next World Cup, despite the fact his contract is due to expire next summer.
The Three Lions were paired alongside old rivals Scotland during yesterday's draw at the Konstantin Palace, with Slovakia, Slovenia, Lithuania and Malta providing the other opposition in Group F.
While Hodgson was present in St Petersburg, it is currently unclear who will take charge of England during their quest to qualify for Russia, with the 67-year-old's current deal scheduled to end after Euro 2016.
However, with his side currently cruising towards qualification for that tournament and displaying gradual signs of development, Hodgson, appointed ahead of Harry Redknapp as successor to Fabio Capello in May 2012, appears keen to remain in his current role for as long as possible.
"I shall be delighted to retain the position all the time people want me to," he told BBC Radio Five Live.
"It is a great honour and privilege to be England manager – I honestly believe the team we are building has got a chance of doing relatively well in the future. Representing England, I am pleased to come away with a good group for the qualifying period and if the FA want me to lead the team I will be delighted to do so."
Although he is eager to stay on, a man of Hodgson's considerable experience knows that such a possibility is likely to depend on how England, currently top of Group E with five qualifiers remaining, fare at the Euros two years on from their disappointing group stage exit at the 2014 World Cup in Brazil.
He added: "If we can come through Euro 2016 without too many tears being shed I believe we have a good chance of qualifying for 2018. Maybe FA chairman Greg Dyke's dream of victory at the 2022 World Cup can be brought a bit closer."
Speaking specifically about England's first ever World Cup meetings against Scotland, Hodgson believes the rivalry will capture the imagination and that the recent friendlies between the two sides means the players will be prepared for the hostile atmosphere that inevitably awaits.
"The Scotland fixture really does excite people," he said. "We have got recent experience of what the atmosphere will be like. The games will excite the public, get people in the mass media excited too, it is a good draw all round – I think Scotland will be happy with it and we are happy with it.
"It is a very fierce rivalry and that's good. It's not fierce on the field as the games are played in absolutely the right spirit. Both the game at Wembley and the game at Celtic Park were played in a very competitive manner and were extremely intense but there was certainly nothing untoward, there was not a bad foul in either of the two games.
"So let's make certain we keep talk of fierce and intense rivalry to the many fixtures back in the past that people refer to."
The dates for those World Cup 2018 qualification ties were confirmed earlier today (26 July), with England set to host Scotland on 11 November 2016 before heading north of the border on 10 June 2017.