Customers who placed orders with RS Components in June are still waiting for their Raspberry Pi's to be shipped.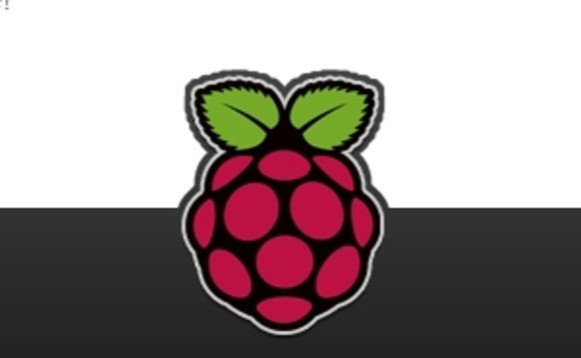 A Raspberry Pi is a single board computer developed by the Raspberry Pi Foundation, a charity aimed at incentivising schools to teach computer science. The mini computer, costing £30, is distributed only by two companies - RS Components and Farnell.
Customers put their names down on the order lists months ago, and some of them are still waiting for their orders from RS Components. And it seems they may have to wait until November, possibly, for orders placed in July.
No phone number is listed on the RS Components website for Raspberry Pi customers, just an email address. An email address, we have been told, that leads to a mountain of unanswered emails.
One of the solutions customers have found to vent their frustration and ask questions has been to take to the Raspberry Pi forum. And even there, answers are not flowing freely.
The main thread concerning orders with RS dates back to 19 June and was started by an RS spokesperson. Then, some customers had already been able to place orders, knowing they would have to wait for anything to ship. The message explained that 75,000 Pi's were ready to be shipped and that an additional 100,000 would be arriving later in the summer, ready to ship to the orders made after the 19th.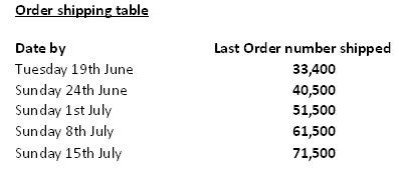 Already questions arose, with customers wondering why their orders were taking so long when over at Farnell, the whole process was much swifter. Some customers complained of bills showing double the amount they had ordered for and not being able to get through to anyone at RS. Most of these messages were answered by an RS spokesperson, inviting customers to email RS directly.
Simon McElroy, a customer living in Spain, said that he ordered his Raspberry Pi back on 20 June. He was initially told he would have to wait 10 weeks for his order to be shipped but that date has been pushed back again.
On 28 August, a new thread was started by an employee of RS explaining the situation. An email was also sent out to customers still waiting on their orders. Simon received his email on 29 August . Other customers, and many American customers dealing with RS's counterpart in the US, Allied, claimed to have not received anything.
The email reads:
Dear customer,
Thanks again for your Raspberry Pi order. We are busy working with the suppliers who provide components for your Raspberry Pi to ensure you receive your order as quickly as possible.
Since receiving your order, we have been advised that our next batch of approximately 40,000 Raspberry Pi's will now be arriving during September, with further deliveries expected in October. This delay is due to the very high level of demand on the core Raspberry Pi processor chip. Unfortunately, this means that your order will be delayed up to the 30th of September, although we are trying to reduce this as much as possible. As soon as we receive confirmation of any improvements from our manufacturers, we will advise you.
Please accept our apologies for this delay and be assured we are doing everything we can to ensure the fastest possible delivery of your Raspberry Pi.
Yours Sincerely
RS Components and Allied Electronics
On the forum, though, the message posted by "Jo@RS" included a table with estimated shipping dates, listed by the last order to be sent out for each date. The first number in the table is 101,000. But according to McElroy, his order number was 826XX.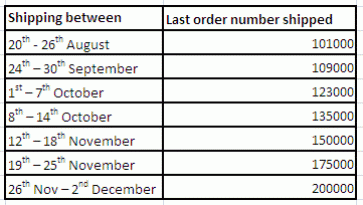 On 5 September, McElroy received another email from RS Components, directly addressed to him.
Dear Simon,
In regards to your order I apologise on behalf of RS for the poor customer service you have received. As to your query, I'm afraid to say that we encountered a problem at our depot between the orders of 80000-85000 where some orders were withheld which included your order 826[XX]. For those affected we sent out an email on Wednesday 29th August, explaining that due to our delayed shipment of Raspberry Pi's we estimate to dispatch your order by the end of September. If this is unacceptable we are able to cancel and refund your order,
Our sincerest apologies and thank you for your patience,
Kind Regards
Raspberry Pi Team
The order numbers mentioned in the email, however, do not correspond with the order numbers detailed in the shipping table posted on the forum a week earlier.
On 27 September, "Vic@RS" posted the following message on the forum:
Thanks to everyone who responded to last week's post. This week, we're pleased to share some really good news regarding availability and delivery of Raspberry Pis.
On Tuesday 25th September we received our latest delivery of boards into our warehouse. We've now started shipping orders out to customers, and with further deliveries coming in the next 2 weeks we expect to despatch over 40,000 more orders by mid-October.
However, the message carried no mention of the backlog of orders dating back from June and according to the messages on the forum from unhappy customers, emailing the company has resulted in nothing constructive.
It is the lack of communication and clear information that has led to the anger and frustration of the customers. The severe delays prompted some customers to cancel their orders with RS Components and order from competitor Farnell instead.
User Cotard, on 28 August, wrote: "I ordered the raspberry pi July 4 and tells me to wait 12 weeks for delivery. And now, after all this time are now 8 weeks. Why? element14 [a Farnell company] told me five weeks and were one." "Well I'm cancelling my order and going to order on Farnell" wrote another user.
One other issue customers seem to be having is chasing down refunds. When placing orders for the Raspberry Pi, customers were asked for card details, with cards being charged straight away. And while RS promises a refund within 14 working days, posts by users show that these promises are not always a reality.
One user, going under the name of scorp, wrote on 2 October about still waiting for repayment. "I cancelled order with RS on the 10.09.2012(then ordered from Farnell and had my RPi next day...). After 21 days of waiting for my money back I sent them email yesterday...still waiting for the answer. I thought they have a team checking that special email address...."
We contacted both RS and Raspberry Pi for a comment, but had not heard back from either at the time of publication.