Wales coach Warren Gatland says his side's first half ill-discipline led to their cruel Rugby World Cup exit at the quarter-final stage to South Africa at Twickenham. The Springboks plundered four penalties in the first half from the boot of Handre Pollard before Fourie du Preez's late try secured a 23-19 win and a last four berth for the two-time champions.
Dan Biggar kicked 14 points and set up Gareth Davies' first half try but in the end the mountain of Welsh injuries - which swelled with the loss of Scott Baldwin and Biggar - came back to haunt Gatland's side. Du Preez collected Duane Vermeulen's pass off the base of the scrum to score and leave the New Zealander disconsolate.
"We're absolutely gutted about that," Gatland said at his post-match press conference. "I am proud of the performance. You ask about my emotions but that is not what I really want to talk about.
"The guys put their bodies on the line, gave everything and have nothing left in the tank and that is all you can ask for from the team. Unfortunately we were not good enough to hold on for 80 minutes. Credit to South Africa they stayed in the game but we're very disappointed.
"Potentially Gareth Owens and Lloyd Williams should gone in hard on the ball because the scrum had screwed a little bit and then Alex [Cuthbert] should have stayed out," he said of the lead-up to Du Preez's try, which caught out a misshapen Wales defence. "It is a great bit of skill [from Vermeulen], he has stayed on his feet and passed around the back. Disappointing from us but you have to acknowledge the skill from South Africa in scoring that try.
"I think if you look at some of those penalties they are a pretty soft some of them. I know they're missed a couple of shots at goal but he's got Alun Wyn Jones half a yard offside, another one for not rolling away, swimming in the line out was one. So from our point of view giving away those three points was so disappointing because we had worked so hard for the points we got ourselves."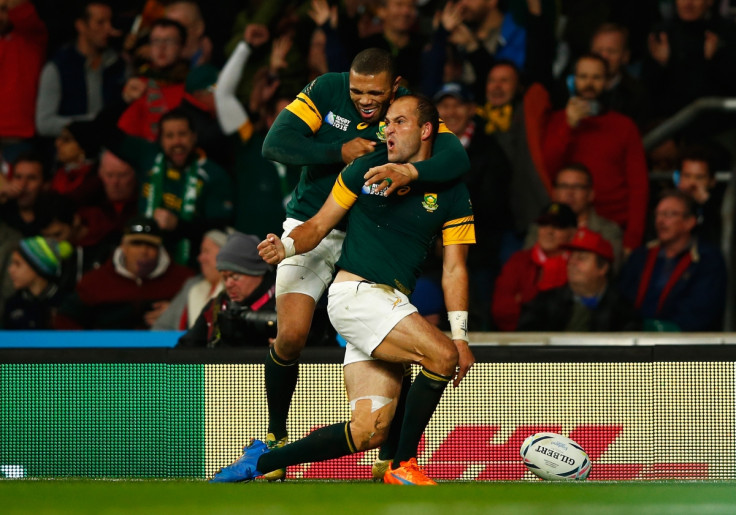 South Africa coach Heineken Meyer was naturally in euphoric mood following his side's heroic effort which sees them set up a semi-final meeting with either New Zealand or France next weekend. Match-winner Du Preez, third choice captain after the loss to injury of Jean de Villiers and Victor Matfield came in for special praise for orchestrating the move which decided the game.
"I would like to kiss Fourie," Meyer stated. "Especially after that try. I have always said that coaching is overrated, you have to be able to pick guys with character. I have always said character is like charcoal, you put pressure on and you can get diamonds. Knock-out rugby is not about playing the best rugby it is about character and right at the end my captain showed some pace.
"I am so happy for Fourie. It is very easy to praise him now but if you are really honest he is the most astute rugby player I have ever coached. H is a tactical genius. If you see South Arica playing well in test match Fourie was always the guy organising the team and making tactical decisions. He doesn't always get the credit for that.
"We were in desperation mode. He came back, he was having problems with his back he ha just broken his ankle. I just beige that he really wants to win and that is when he works well. Four is so driven probably more than me so I knew I needed desperate measures. I now it was the right call."