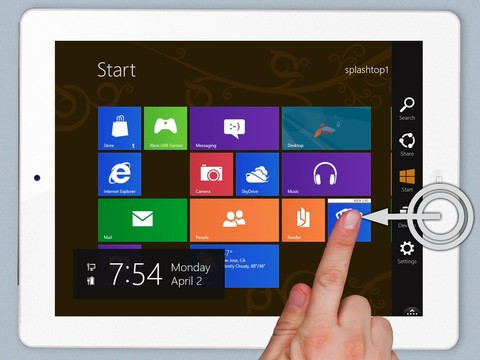 Apple's iPad is easily one of the most preferred tablets for business professionals. However, the tablet, for all its wonder, lacks Windows-based productivity tools like Microsoft Office. The release of Web-based Office apps, in 2010, did allow users some respite, in that they could view documents, they still could not edit or download them. Instead, they had to opt for alternatives like QuickOffice Pro HD and Documents To Go.
Fortunately Splashtop has come to the rescue and released its Win8 Metro Testbed app, which lets tech enthusiasts run Windows 8 programmes on the iPad. The app users the Metro User Interface's touch gestures on the iPad and offers full sound and graphics, as well as the ability to swipe to view Charms menu, switch apps and pinch to navigate files and folders.
"Win 8 Metro Testbed is a must-have app for who's trying to build a great Metro style app without incurring the high cost of a Windows tablet," Splashtop elaborated.
The app is available in the App Store for $24.99 (£15.76).
Meanwhile, check out five alternatives to running Windows on the iPad
OnLive Desktop
The OnLive Desktop app delivers access to a reliable and high-performance PC desktop in the Cloud, with Office applications. Users can experience instant-response multi-touch gestures which make for an easy way for the viewing and editing of documents. Moreover, users can transfer files between OnLive Desktop and other devices. The app is available for free from the App Store and Google Play.
Nivio
Nivio (beta state) allows tech fans access to a cloud-based Windows desktop on any connected devices such as those running iOS, Android, Mac or Windows. Users can access Nivio through a range of optimised client apps or directly, using a HTML 5 browser. Once inside Nivio, users can have access to an App Store from where they will be able to rent apps such as the Microsoft productivity suite.
Slashtop Remote Desktop
The Splashtop Remote Desktop connects your Windows PC to the iPad via an Internet connection. It also offers fast streaming of videos including animations over Wi-Fi and 3G/4G networks. The app is available from the App Store for $4.99 (£3.14).
Citrix Receiver
Citrix Systems, one of the leading providers of virtual computing solutions, offers the Citrix Receiver app, which allows iPad owners to take a virtual office providing secure access to one's corporate applications and documents. "The iPad is best for mobile business use as a complement to the corporate desktop," said Mark Templeton, President and CEO, Citrix Systems.
DaaS
Molten Technologies offers an app to access the PC from any devices such as an iPad. One can access files, enterprise applications as well as active directories. It offers a dedicated virtual machine for each desktop which avoids apps compatibility issues.