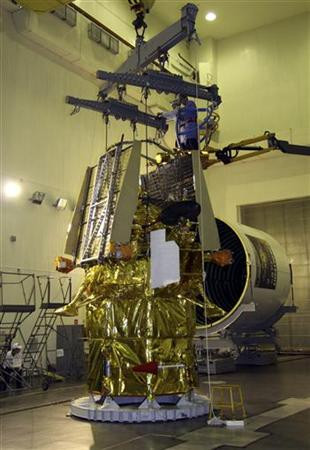 Adding to the country's list of space bungles, a Russian space craft designed to collect rock and dust samples from a Martian moon flew off course minutes after its launch.
The Russian space agency reported that the craft veered off course after an engine designed to keep it on track failed to start. As a result of the engine failure the probe is reportedly stuck in Earth's orbit. Russian engineers clarified that they have three days to correct the problem before the craft's batteries run out.
The Phobos-Grunt craft was the agency's most ambitious mission in years. Russian engineers designed the probe to collect samples from a 27 km-wide "Phobos" moon orbiting Mars. Scientists said they hoped the samples would help shed light on the mysterious moon's origin, which may be an asteroid caught in the red planet's orbit.
The mission also included China's first Mars satellite, the Yinghuo-1, which the Phobos-Grunt probe would take to Mars before releasing the satellite into orbit.
A spokesman for the Russian Space Agency said that scientists are working to fix the engine failure and still hope to have the samples back on Earth within three years' time.
A History of Blunders
Prior to the Phobos-Grunt, Russia made 16 attempts to reach the red planet since its programme first launched in the 1960s -- none successful.
Prior to the Phobos-Grunt engine failure, the country had numerous problems with other space programmes. In August, reports indicated that Russia had lost contact with a newly-launched major telecommunications satellite, the Express AM-4.
First reported by Reuters on 18 Aug., Russian officials confirmed the loss of contact with the then newly launched satellite.
The Express AM-4 satellite makers described it as the most powerful satellite ever built in Europe. Officials launched the AM-4 Wednesday from a Russian-leased launchpad in Kazakhstan.
Since losing contact with the satellite, Russian officials confirmed that the first stages of the launch went according to plan. Russian representatives clarified that the country's space agency only lost contact with the satellite after an unspecified failure occurred in a component of the launch rocket engine.