Russia orders US to cut embassy staff in tit-for-tat over sanctions
The Kremlin will also seize US embassy's summer house in Moscow and other properties.
Russia said it will cut American diplomatic staff to 455 and seize the US embassy's Moscow summer house after Congress passed a sanctions bill against the country.
The move will involve scores of US diplomats leaving the country, with the new staff levels on par with Russia's embassy staff in America.
The foreign ministry said in a statement that the US will have to limit its personnel in the Moscow embassy and its consulates in St Petersburg, Ekaterinburg, and Vladivostok to the new number.
It added that it was also seizing a warehouse used by US diplomats, setting a 1 September deadline.
The new US sanctions are over Russia's 2014 annexation of Crimea and alleged interference in the US election, were passed in the Senate last night (27 July) by a margin of 98-2. The tighter sanctions were earlier passed by the House of Representatives by a 419-3 vote.
The move by the Kremlin comes months after the Barack Obama administration ordered the seizure of two Russian diplomatic compounds and expelled 35 Russian diplomats in response to alleged hacking of the US Democratic Party and Hillary Clinton's Presidential campaign.
Russia delayed its response to these sanctions passed in the last days of Obama's administration as a gesture of goodwill to the then-incoming US President Donald Trump.
In his early days in office Trump had talked about mending fences with Russia to fight Islamic terrorism around the world.
Totally fabricated
But now Russia's foreign ministry said the US expulsion of Russian diplomats "clearly violates the Vienna Convention on diplomatic relations and generally accepted diplomatic norms".
It added that allegations of meddling with the US election were "totally fabricated" and said "relations with Russia have obviously become hostage to domestic political battles" in America.
"Despite Washington's constant outbursts, we have and continue to behave responsibly and with restraint, we have yet to respond to obvious provocations" said the Russian ministry.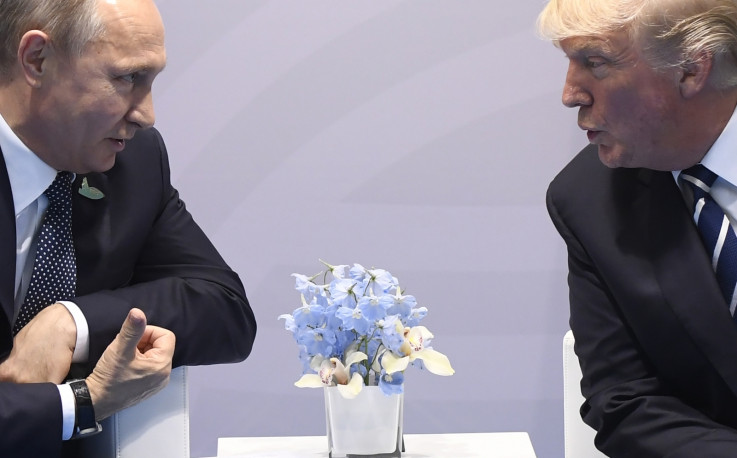 US President Donald Trump and Russian President Vladimir Putin hold a meeting on the sidelines of the G20 Summit in Hamburg earlier this month
SAUL LOEB/AFP/Getty Images
It added: "However, the latest events show that Russophobia and the path of open confrontation with our country have taken root."
The US sanctions bill – which ensures existing measures cannot be repealed without congressional approval and opens the door to further restrictions on the energy, defense, and financial sectors – has yet to become law, and Trump has the right to veto the move.
But this is thought unlikely after the measures were passed overwhelmingly in both houses.
It is currently unclear how many US diplomats will have to leave Russia or whether the measures also affect contractors and local employees, but Russian news agency Interfax cited a source saying that "hundreds" will have to leave.
Earlier this week Russian President Vladimir Putin said: "We can't endlessly go on putting up with this insolence against our country."
US intelligence agencies believe Russia tried to sway the election in favour of Trump and there are now several investigations looking into whether anyone from his campaign played a part in these efforts.